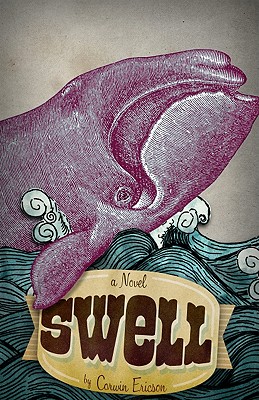 Swell (Paperback)
Dark Coast Press, 9780984428847, 386pp.
Publication Date: October 25, 2011
* Individual store prices may vary.
Description
"""A raucous roller-coaster ride . . . the writer deconstructs all things New England to hilarious effect. Ericson's tale reveals strong flavors of Tom Robbins, but there is also a splash of Douglas Adams in The Hitchhiker's Guide to the Galaxy. Just sit back and enjoy the long strange trip."" "-- Tom Lavoie," Shelf Awareness"
The tiny Northeast island of Bismuth keeps getting smaller for Orange Whippey.
Stranded on Wreck Rock, a bad day only gets worse when Orange is conscripted into service on board the Wendy's Mom. After a drunken fall from the ruins of a navy ship and the ill-advised ingestion of a stimulating new drug, Orange is rescued by Angie Bombardier, a fetching and forthright fellow Islander. But with the arrival of Snorri--a Finlindian whale herder on a quest to find the fabled Hyperborea--and Waldena--a harpoon wielding Thor-cult priestess--the waters surrounding Bismuth get rough and Orange finds himself at the center of a search for a missing package. Rumors swirl and dangers escalate, turning the serene isle upside-down. For things to be set right again, the package must be found and given to its rightful recipient.
Snorri is well-heeled and fiercely indomitable, yet drawn to Orange's own personal brand of complacency and coerces him into joining ranks. Korean smugglers also enlist Orange's help with their search (among other things ). At the same time Waldena pursues the package for her own reasons. Perilous, yet lithe, her frequent interrogations leave Orange terrified but oddly excited . . . that is until he learns that his life might actually be in danger.
A vast North Atlantic is teeming with mythical whales and epic tales. Cruising the open water, Orange drinks gallons of coffee and beer, barbeques squid, and even stumbles into a sweltering sauna with the alluring Bombardier sisters. Aboard the Honeypaws, he is set on course to encounter an ancient council that is helping secretly create the WhaleNet, a cell phone network made of migrating whales. The council's possible ulterior motives could hold the surprising and bizarre resolution to Orange's journey.
Drawing from the various satiric traditions of Neil Gaiman, Thomas Pynchon, and Christopher Moore, Swell is full of legend and lore, big fish stories, and unforgettable humor.
About the Author
Corwin Ericson lives in western Massachusetts where he works as an editor, professor, and writer. He is the author of the chapbook Checked Out OK (Factory Hollow Press, 2011), a collection of police reports. Swell is his first novel. More info can be found at www.swellthenovel.com and www.darkcoastpress.com.
Praise For Swell…
A raucous roller-coaster ride . . . the writer deconstructs all things New England to hilarious effect. Ericson's tale reveals strong flavors of Tom Robbins, but there is also a splash of Douglas Adams in The Hitchhiker's Guide to the Galaxy. Just sit back and enjoy the long strange trip. - Shelf Awareness
This delightfully loopy debut combines Down East deadpan with elements of Nordic mythology and Pynchonesque pyrotechnics. Ericson's Maine coastal setting lies at the edge of the surreal. - Publishers Weekly
Jaunty, playful, hilarious, and imminently readable, Swell is much more than an auspicious debut, it's that rarest of birds, a good old-fashioned reading pleasure. - Jonathan Evison, author of West of Here and All About Lulu

Orange himself reads like Pynchon's Doc Sportello. Add a splash of Douglas Adams' Hitchhiker's Guide to the Galaxy, too . . . A superbly crafted mixture of humor and observations of modern life, a combination of barely-noticeable detective fiction and magical realism, something uniquely its own and, in the end, a truly good read. Swell is a fantastic novel. - Line Zero