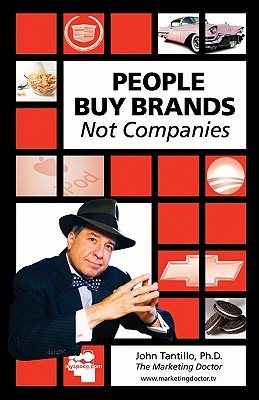 People Buy Brands Not Companies (Paperback)
Five Titles Press, 9780984436705, 126pp.
Publication Date: January 29, 2010
* Individual store prices may vary.
Description
People Buy Brands Not Companies is Dr. Tantillo's game-changing exploration of marketing and how it has been consistently and disastrously misunderstood. His concept of the marketing lens will empower the reader. It will change their businesses and their lives. "There simply isn't anything that can't be analyzed more effectively or run more efficiently and profitably when you apply the marketing lens," writes Tantillo, nationally known as "The Marketing Doctor." His unique approach blends his PhD in Applied Research Psychology with decades of corporate marketing acumen. Marketing is everything and this book proves it. People Buy Brands, Not Companies provides the novice with a critical advantage in the area of business and personal branding, and is the much-needed booster shot for the marketing professional. The Marketing Doctor moves marketing to the center stage of human activity where it belongs. He vanquishes the bean counters and vindicates marketing's importance for the bottom line. In the process, Tantillo proves that marketing is fundamental to the success of almost any venture, business or personal. People Buy Brands, Not Companies is something that people will want to share with their friends and marketing professionals will want to give to any client who ever doubts the importance of their work. Dr. Tantillo is a popular Fox Forum columnist and a frequent commentator on business and celebrity marketing for both radio and television. A more developed biography may be found at www.marketingdoctor.tv. What people are saying about The Marketing Doctor: "A marketing genius and visionary." -Bill O'Reilly, The O'Reilly Factor "A marketing whiz." -Cashman Peters, NPR's Marketplace "You're the best at this." -Neil Cavuto, Fox Business News, to Dr. Tantillo on air concerning his Marketing Analysis of Healthcare Reform "If you want to know how to define and enhance your brand, you need the marketing doctor, John Tantillo." -The Alan Colmes Radio Show.
About the Author
Dr. John Tantillo has been called marketing's answer to Howard Cosell for his brash, tell-it-like-it-is fusion of street smarts, school smarts and New York into one distinctive brand (he's that guy on TV with the strong opinions (always right about marketing!) who waves his hands around a lot, wears a bow tie, favors a Borsalino and a made-to-order Brooks Brothers suit). An award winning marketing professional, lecturer and teacher, Dr. John Tantillo is a trained applied research psychologist who is internationally known for his expertise at diagnosing the factors that impact target markets. Dr. Tantillo is a member of the American Marketing Association (AMA), the International Association of Business Communicators (IABC) and the Cambridge Who's Who Registry of Executives and Professionals. He has won many creative awards for clients including Canon USA and SLS Health. A proponent of continuing education at all professional levels, Dr. Tantillo has taught graduate and undergraduate courses in Advertising, Sales Promotion, Market Research and Sales Management at Manhattan College in New York, and lectures around the country. He received a B.A., Magna Cum Laude St. Francis College, Brooklyn, New York, 1973, an M.A., Queens College of The City University of New York, Flushing, New York Experimental Psychology, 1976, and a Ph.D. Hofstra University, Hempstead, New York Applied Research Psychology, 1980. In 2006, Esquire Magazine named Dr. Tantillo as a finalist in their "Best Dressed Man" contest. He appears regularly on Fox Business News and is also a frequent guest on nationally televised programs and has appeared on the NBC Today Show, Fox News Channel's Your World with Neil Cavuto, BBC and on the nationally syndicated Access Hollywood. He has been a regular commentator for IncBizNet; his blogs are syndicated on the AMA website, and he is currently a Fox Forum columnist where his blog posts regularly rank in the top five of all posts on that site and one of his most recent posts has generated over 180,000 page views and 4,000 comments.