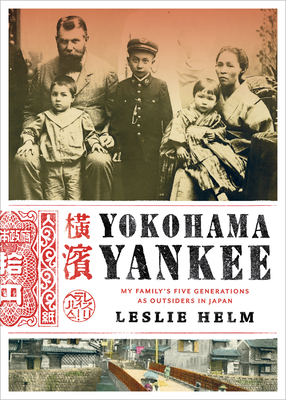 Yokohama Yankee
My Family's Five Generations as Outsiders in Japan
Paperback

* Individual store prices may vary.
Description
A lovely, unsettling family story and a vivid traversal of modern Japanese history that will impress the jaded Japan scholar and inspire the curious general reader or memoir fan. -- Library Journal
Helm was the Tokyo correspondent for the Los Angeles Times when he realized that the majority of the articles he had written were critical of Japan in some way. This was surprising considering Helm was born in Japan and is part Japanese himself. In this lovingly researched memoir, he sifts through five generations of Helms living in Japan...history buffs will relish Helm's painstaking detail and impressive command of the material. -- Publishers Weekly
Yokohama Yankee is a marvelous and eloquent work of family history. What makes it more remarkable is this family's history also sheds light on the political, economic, cultural, and racial interactions and tensions between Japan and the United States for more than a century and a half, right up to the present day. This is a humane and insightful book that will be read many years from now. -- James Fallows, national correspondent for The Atlantic and author of China Airborne

"Like a sword cleaving a bittersweet fruit, Leslie Helm's saga of his mixed-blood family in Japan cuts to the inescapable isolation of being white in a country where blood still means so much. Yokohama Yankee is a painfully intimate story that spans more than a century and brings the wrenching history of modern Japan into a focus that is both razor sharp and deeply human." -- Blaine Harden, author of Escape from Camp 14 and former Tokyo bureau chief of The Washington Post
"Leslie Helm has written a lively and engaging account of his remarkable family history and its intertwining with Japan ... It is a warm and human story that will charm its readers." -- Kenneth B. Pyle, Henry M. Jackson professor of Asian history and Asian studies, University of Washington, and recipient of Japan's Order of the Rising Sun
"One of the finest correspondents to have reported on Japan, Leslie Helm tells the riveting, sometimes painful story of his multinational, biracial merchant family. Living in Yokohama for generations in war and peace, the Helms are at the heart of Japan's long modern history without ever actually becoming 'Japanese.'" -- Sheldon Garon, Nissan professor of Japanese history at Princeton University
Helm mines the many treasures of his family's past, and the multicultural futures of his adopted, Japanese children, to investigate the mysteries of identity that are locked away inside all of us. The family fortune disappears, and relatives scatter in the winds of war and reconstruction. But this lovely story remains, about an erudite man trying to make sense of the world, of the past, and of himself. -- Alex Beam, Boston Globe columnist
" A] wonderful work full of pathos, insight and humanity." -- Fred G. Notehelfer, emeritus professor of Japanese history at UCLA and author of Japan Through American Eyes: The Journal of Francis Hall, 1859-1866
Leslie Helm's decision to adopt Japanese children launches him on a personal journey through his family's 140 years in Japan, beginning with his great-grandfather, who worked as a military advisor in 1870 and defied custom to marry his Japanese mistress. The family's poignant experiences of love and war help Helm overcome his cynicism and embrace his Japanese and American heritage.
This is the first book to look at Japan across five generations, with perspective that is both from the inside and through foreign eyes. Helm draws on his great-grandfather's unpublished memoir and a wealth of primary source material to bring his family history to life.
Chin Music, 9780984457663, 346pp.
Publication Date: March 12, 2013
About the Author
Leslie Helm is a veteran reporter and editor with more than 20 years experience working for local and national publications. Currently, he is the editor of Seattle Business, a monthly magazine. He also served as executive editor of Washington CEO Magazine. Helm began his career with Business Week, reporting for the magazine first as Tokyo correspondent and later as Boston bureau chief. He returned to Tokyo to cover Japan and Korea as correspondent for The Los Angeles Times before moving to Seattle for the Times to cover business in the Northwest. Helm earned a master of science from the Columbia University School of Journalism. He also has a bachelor's degree in political science and a master of arts in Asian studies from the University of California, Berkeley. Helm was born and raised in Japan and speaks fluent French and Japanese.