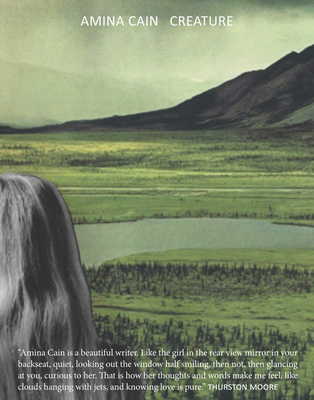 Creature
Paperback

* Individual store prices may vary.
Description
Fiction. "Amina Cain is a beautiful writer. Like the girl in the rear view mirror in your backseat, quiet, looking out the window half smiling, then not, then glancing at you, curious to her. That is how her thoughts and words make me feel, like clouds hanging with jets, and knowing love is pure."--Thurston Moore

"To be among Amina Cain's creatures is to stand in the presence of what is mysterious, expansive, and alive. Whether these distinctly female characters are falling in and out of uncanny intimacies, speaking from the hidden realms of the unconscious, seeking self-knowledge, or becoming visible in all their candor and strangeness, they move through a universe shaped by the gravitational pull of elusive yet resilient forces-the yin-dark energies of instinct and feeling that animate creative life. It's here that the intuitive reach of fiction meets the reader's own quest for understanding, through the subtle beauty of living the truth of one's experiences in the most attentive and unadorned way possible."--Pamela Lu.
Dorothy a Publishing Project, 9780984469383, 144pp.
Publication Date: November 1, 2013