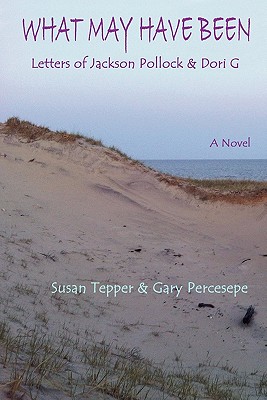 What May Have Been
Letters of Jackson Pollock & Dori G
Paperback

* Individual store prices may vary.
Description
What May Have Been is a novel in letters exchanged between the artist Jackson Pollock and his fictional lover, a young woman called Dori G. Susan Tepper and Gary Percesepe have created a sexy and luminous love story that takes place sometime during the late 1940's, in that sandy wonderland at the eastern tip of Long Island known as The Hamptons. Advance Praise for What May Have Been "In this extraordinary novel, Pollock tells his lover that things like paint and wives are very small in the scheme of things. Gary Percesepe and Susan Tepper show how the great scheme of things is, in fact, in literary art, captured in paint and wives and a Montauk surf and a silky scarf and narrow hips and a cold water flat and a used Ford. Brilliantly conceived, brilliantly executed, this is a stunning book about art and about life." -Robert Olen Butler, Pulitzer Prize-winning author of A Good Scent from a Strange Mountain "The fictional letters between Pollock and an imaginary Dori G come out in a hailstorm of paint flecks, lockets, long looks, kisses, blowing sand. Dori sees Jackson in his distance and his nearing, and his return to her like the visit of one of the Greek gods to his mortal lover, as piercing and as fatal." -Mary Grimm, author of Left to Themselves and Stealing Time "How to convey the irresistible pleasures of this novel in letters? The language mimics the slashing, dramatic immediate heroic gestures of abstract expressionism, is an extraordinary act of poetic invention, and tells a sexy and doomed love story." -James Robison, author of The Illustrator and Rumors "These two fervent voices exude the splendor and gloom of adulterous love." -Mark Wisniewski, author of Confessions of a Polish Used Car Salesman.
Cervena Barva Press, 9780984473281, 104pp.
Publication Date: December 1, 2010