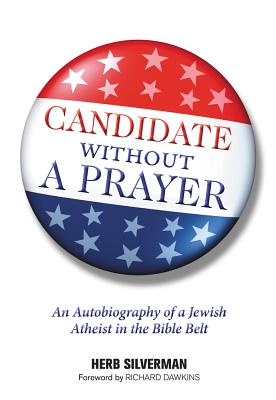 Candidate Without a Prayer: An Autobiography of a Jewish Atheist in the Bible Belt (Hardcover)
An Autobiography of a Jewish Atheist in the Bible Belt
Pitchstone Publishing, 9780984493289, 255pp.
Publication Date: June 1, 2012
* Individual store prices may vary.
or
Not Currently Available for Direct Purchase
Description
In this deeply revealing and engaging autobiography, Herb Silverman tells his iconoclastic life story. He takes the reader from his childhood as an Orthodox Jew in Philadelphia, where he stopped fasting on Yom Kippur to test God's existence, to his adult life in the heart of the Bible Belt, where he became a legendary figure within America's secular activist community and remains one of its most beloved leaders. Never one to shy from controversy, Silverman relates many of his high-profile battles with the Religious Right, including his decision to run for governor of South Carolina to challenge the state's constitutional provision that prohibited atheists from holding public office. "Candidate Without a Prayer" offers an intimate portrait of a central player in today's increasingly heated culture wars.
About the Author
Herb Silverman is founder and president emeritus of the Secular Coalition for America, and distinguished professor emeritus of mathematics at the College of Charleston. He ran for governor of South Carolina in the 1990s. He lives in Charleston, South Carolina. Richard Dawkins is an ethologist, an evolutionary biologist, and a writer. He is an emeritus fellow of New College, Oxford, and was formerly University of Oxford's Professor for Public Understanding of Science. Among his previous books are "The Ancestor's Tale," "The God Delusion," and "The Selfish Gene."
Praise For Candidate Without a Prayer: An Autobiography of a Jewish Atheist in the Bible Belt…
"An entertaining and informative look at America's culture war from a writer who has been embedded in the front lines."
—Steven Pinker
Harvard College Professor of Psychology
Harvard University, and author of The Better Angels of our Nature
 
"Herb Silverman's autobiography is not an anti-theological treatise. It is, however, a warm, deeply personal, and inspiring tale of one atheist's travels through life in one of America's most religion-drenched regions. Silverman 'plays well' with believers and nonbelievers who share this core belief: no government official dare treat a person as a second-class citizen because of what she or he believes about God, gods, or the nonexistence of them."
—Reverend Barry Lynn
Executive Director of Americans United for Separation of Church and State  
"Herb Silverman's lively history of an atheist raised as an Orthodox Jew fills a real gap in the literature of the 'New Atheism,' in that it describes the emergence of a creed based on human goodness without godliness in highly personal rather than abstract philosophical terms. In an account that will resonate with people raised in all faith traditions who have made the same journey, Silverman captures the essence of what it means to realize that you think differently from those around you—including the people who brought you into this world."
—Susan Jacoby
author of Freethinkers: A History of American Secularism
"It isn't often that inveterate honesty and inviolable reasonableness are combined with such a sweet disposition and a wonderful sense of humor. Those who don't yet know Herb will find in this wonderfully entertaining tale of how he became a fighting atheist a man of true wit, true warmth, and true wisdom."—Rebecca Newberger Goldstein, author of 36 Arguments for the Existence of God: A Work of Fiction"Herb Silverman has long been one of the most important secularist activists in the United States. With this book, you'll find he is a wonderful storyteller as well. Herb's warm and thoughtful self-portrait shows what it can mean to be both Jewish and a Humanist. And his story of running for governor of South Carolina as an open atheist is laugh-out-loud funny and worth reading for anyone who ever loved and/or hated the bizarre but hopeful theater that is American political life."
—Greg Epstein
Harvard Humanist Chaplain and author of Good Without God
"Dr. Silverman is certainly unique for Charleston, maybe even unique for anywhere. When he came down here as a fine math professor but a cultural fish out of water, he simply created a flood of reason in which his newly discovered fellow infidels could swim. Herb presents a rational and persuasive alternative to those of faith, both with his words and his behavior."
—Judge Alex Sanders
Former President of the College of Charleston and Founder and President of the Charleston School of Law

 
"Iconoclastic atheist, humorist, and mathematician Herb Silverman takes you on an entertaining tour of his irreverent life, so far."
—Wendy Kaminer
Lawyer, social critic, and author of seven books
Advertisement