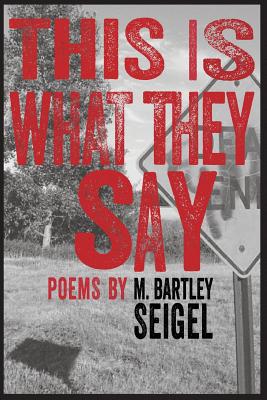 This Is What They Say (Paperback)
Typecast Publishing, 9780984496143, 126pp.
Publication Date: April 16, 2013
* Individual store prices may vary.
Description
"This Is What They Say introduces us to a poet of intensity and passion who sings against the backdrop of a world we know intimately, but which he has shown to us with new eyes. Dark and humorous, these pieces revel in language as they illuminate with imagery. M. Bartley Seigel is an important poet, writing about a time and a place that matter." --Laura Kasischke, author of National Book Critics Circle Award-winner Space, In Chains and The Life Before Her Eyes Michigan's economic boom and bust murmurs like an omen for a now-struggling America in This Is What They Say, as poet M. Bartley Seigel reminds us, "we are all collapsing stars." If you listen close, you can hear the secret, untold desires, the "ragged, roiling rage" that emanates from the break rooms and abandoned barns of the upper midwest. Here is the honest account of lives where "scars are replaced with more scars." This is how it feels to grow into adulthood in a first-world wasteland: the slow burn of homemade liquor, the bone-deep ache of a cavity, and the keen of metal against glass. This is the moving and tragic strain that comes between families as they attempt to "clasp arms and dive into this thing together, electric and beautiful as bullets," and This Is What They Say.
About the Author
M. Bartley Seigel is the founding editor of the critically acclaimed literary magazine [PANK]. He lives, writes, and teaches in Houghton, Michigan, where he is assistant professor of creative writing and diverse literatures at Michigan Technological University.