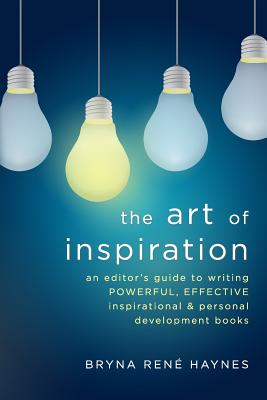 The Art of Inspiration (Paperback)
An Editor's Guide To Writing Powerful, Effective Inspirational and Personal Development Books
Inspired Living Publishing, 9780984500666, 220pp.
Publication Date: June 15, 2016
* Individual store prices may vary.
Description
Finally, a book that addresses not only the physical process of creating an inspirational, self-help, or personal development book, but the emotional and spiritual hurdles that block writers from following their dreams and finishing their books
The Art of Inspiration
is no ordinary writing how-to or reference book, but rather an energetic companion guide for writers of all experience levels It not only addresses the physical process for creating an inspirational, self-help, or personal development book, but actually teaches you to think, feel, and create like an inspired writer
The Art of Inspiration
will walk you through the entire book creation process, from your first "divine download" to your final draft. Along the way, you'll learn how to:
Fully identify your book's purpose and vision.
Create a rock-solid outline and Information Delivery System that will support you through your entire writing process.
Flow through your first draft with confidence and grace.
Create compelling teaching stories that hook your readers.
Refine your content in your second draft.
Ask for and receive feedback you can actually integrate.
Use tools like meditation, mindfulness, and self-inquiry to move through "stuck places" and help your authentic voice emerge with ease.
Self-edit your manuscript to get it ready for submission.
Choose a publishing option that works for you.
... But most importantly, you'll learn how to
ask the right questions
about your topic and how you relate to it, so that you can forge your own path to aligned writing, and bring forth a world-changing book that fully expresses your purpose and vision.
Advance Praise
"I've worked with Bryna since 2010, and when it comes to heart-centered, transformational editing, there's no one better. Her insights and authentic support will take your writing to the next level with love, and give you the confidence you need to share your work with the world."
- Linda Joy
, founder of
Aspire Magazine
& 7-time best-selling publisher at Inspired Living Publishing "The most important thing you need to write a life-changing book is a fiery-hot passion for your topic. The second most important thing you need is the guidance of this book. I wish I'd had
The Art of Inspiration
while writing my first books-it would have made the process so much easier "
- Boni Lonnsburry
, conscious creation expert, award-winning, best-selling author of
Messages From Your Unseen Friends Vol. I
and
The Map: To Our Responsive Universe, Where Dreams Really Do Come True
YOU are an inspiration, and the world needs to hear your message If you have been waiting for the right time to write the book that's in your heart, the time is now So get inspired, and start writing the book that will change your world
This book is 2016 Foreword INDIES Finalist
(category: Writing, Adult Nonfiction)