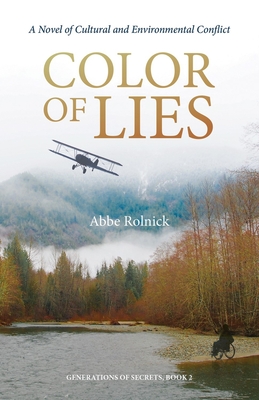 Color of Lies (Paperback)
Sedro Publishing, 9780984511914, 248pp.
Publication Date: May 31, 2013
Description
A novel of environmental intrigue and healing. In the Skagit River Valley-gateway to the Pacific Northwest wilderness-vegetation, birds, and people are inexplicably dying. Does the river carry pollutants from illegal waste sites? One elderly bully's spiteful lies have trapped her victims in a toxic web: -JoAnne, a former World War II pilot, is wheelchair-bound from a youthful accident involving sinister secrets. -Maria, JoAnne's niece and professional pilot, masks the unresolved pain of childhood abandonment. -Spencer, a young organic vintner, suspects the rich valley soil has been polluted by undocumented wastes. -Russell, a spunky 95-year-old ham radio buff, intercepts curious messages that provide clues to the decades-long cover-up. Threatened with exposure, the perpetrator resorts to more malicious behavior, and her victims must join with the community to save the valley. All must face difficult truths in order to halt the accumulation of more than one kind of toxic behavior. For PW: 30-word author Bio: Abbe Rolnick owned a bookstore in Puerto Rico, the setting of her first novel. Now owner of a health-food franchise, she lives on 20 acres in the Pacific Northwest. 25-word book description: Environmental intrigue: Near the Pacific Northwest wilderness, four victims of a toxic waste cover-up must face their own "white lies" to stop the perpetrator.
Praise For Color of Lies…
The loss of a "nuclear" bomb off Puerto Rico during WWII brings strange consequences in this overwrought exploration of a stressed community in Washington State decades later. Twenty-six-year-old Maria de la Via, visiting her Aunt JoAnne, quickly discovers that neighbor Molly McCain is a whole lot worse than unpleasant. A long-standing spat over property rights threatens to escalate into a fight involving all of Concrete, Wash., as animal deaths and the dumping of toxic materials raise suspicions about long-buried secrets. This timely theme is hampered by wooden dialogue and minimal character development: Molly is presented as evil incarnate, and Maria's search for answers predictably finds a parallel in a developing romance. Rolnick's overriding message is that acquiescing to evil and bullying immerses individuals and community in a circle of lies; her heavy-handed, frequently bombastic dialogue reduces most of her characters to uninteresting stick fixtures. A less rigid delineation of good and evil might have given more focus to this examination of a community struggling to throw off its passivity in the face of an emergency. Copyright 2013 Publishers Weekly Used with permission.

Advertisement