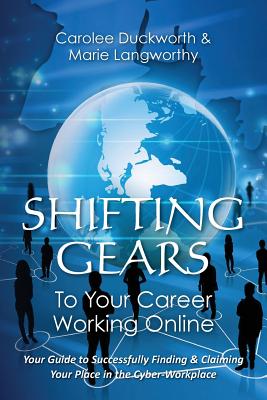 Shifting Gears to Your Career Working Online (Paperback)
New Cabady Press, 9780984513659, 330pp.
Publication Date: April 23, 2015
Description
Why is the idea of working at home growing more enticing to a larger portion of the population? This interest seems to cross all demographics. And fascinating demographics they are Working online may once have been relegated to the realm of impossible and improbable get-rich-quick schemes. But within the past decade, cyberspace has grown to become a viable workplace, with a full spectrum of career options.
Could you, would you, should you become part of the booming cyber-workplace phenomena? What are the tangible, material tools you would need to get started? What are the personal qualities, traits, and situations that would assure your success? Where and what are all these online jobs? How will you find your online work niche? You'll find the answers to these and other questions in Shifting Gears to Your Career Working Online.
READ AND LEARN ABOUT ...
Your 7-step process to prepare yourself for cyber-work
8 places and 7 tips to find online jobs
8 ways to promote yourself for online work
7 major areas of online work--choose the online career that fits you best
About the Author
Dr. Carolee Duckworth worked 40 years as a curriculum designer, specializing in applied learning theory and optimum use of technology. In 1996 she took the lead to design & launch www.college-online.com, and has worked online ever since. Now a full-time author and publisher, she co-authored Shifting Gears To Your Life & Work After Retirement, as well as the Your Great Trip series, including Your Great Trip to France & Your Great Trip to Italy. Dr. Marie Langworthy, in her former career as an educator, was a cyber-pioneer and early technology adapter. As District Director of Instructional Technology, she introduced the entire range of then current and emerging technologies to staff and students. Marie now has "shifted gears" to writer and editor, co-authoring the highly successful Shifting Gears To Your Life & Work After Retirement, while also running her own web-based business, SuperWritingServices.com.
Advertisement