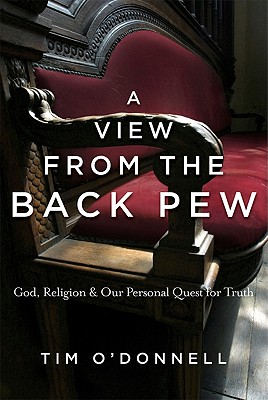 A View from the Back Pew
God, Religion & Our Personal Quest for Truth
Paperback

* Individual store prices may vary.
Description
Since the time Tim O'Donnell was a nuisance to the nuns, he has been asking questions about religion. He went on to become a successful owner of daily newspapers and consulting firms, but the questions remained. So at age forty, he sold his businesses, built a log home in the woods, and dove headfirst into the taboo questions of Christianity-not as a theologian but as an investigative reporter. The answers surprised him. A View from the Back Pew explores the issues we all encounter on our spiritual journey: * Are spirituality and religion the same thing? * Is guilt a necessary part of the religious experience? * Do the rules of religion actually bring me closer to God? * Will open-minded inquiry help or hinder my spiritual progress? * Is God a concept? A reality? A Myth? * Did God create man? Did man invent God? * If mankind's capacity to understand the world has advanced exponentially in the last two thousand years, shouldn't our spiritual understanding be evolving too? * And, perhaps most importantly, am I looking for God in the right places? Candid, humorous, and at times controversial, O'Donnell takes us on a powerful search for balance-between faith and personal experience, between the roots of Christianity and later layers of doctrine, and between systems of belief and a direct connection to the spiritual presence we call God. In this bold quest for truth, you'll delve into everything from the "mystery" of the Trinity and the Virgin Birth to celibacy in the priesthood to Jesus' key teachings about "the kingdom" and the real purpose of prayer. "My hope," writes O'Donnell, "is that if you are drawn to the Divine but labor over dogma, doctrine, and ritual, you will find support and a fresh perspective in my view from the back pew.
Linchpin Publishing, 9780984534418, 264pp.
Publication Date: March 1, 2011
or
Not Currently Available for Direct Purchase