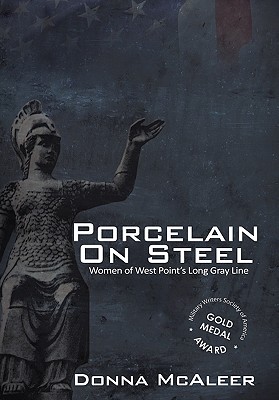 Porcelain on Steel - Women of West Point's Long Gray Line
Hardcover

* Individual store prices may vary.
Other Editions of This Title:
Paperback (5/25/2010)
Description
Porcelain on Steel is an insider's tour of one of America's most storied institutions and shares with the reader what it takes to succeed in the high-pressure, high-performance, high-testosterone lab that produces leaders for the Army and for our Nation. In an era where the American public is saturated with women selling sexuality, this book highlights those who, blessed with strong character traits, use them to make a positive contribution to society. Leadership is a matter of character; leadership is matter of how to be, not how to do it. Leadership is something that is instilled in you-and great leaders in turn instill the ability in others. The women in Porcelain on Steel exemplify this-for all ages and wisdom for all time. Their qualities and strength of character would lead to success in any era but most importantly, their stories are especially relevant now, in today's times. This is a book for your daughter, your sister, your best friend, and most of all, yourself. *** The women in Porcelain on Steel are genuine role models. America's youth, whether male or female, as well as parents in search of stories of inspiration, courage, loyalty, public service and leadership that set a positive direction for our young people, should read this book. This is a powerful and inspirational portrait of the women who serve-not just our country, but their families, their communities, and their own commitment to a purposeful and meaningful life. These women, like the author Donna McAleer herself, had the courage and strength to attend West Point-the toughest and most elite military school in the nation-and have the heart and soul to be role models for women everywhere. We can find courage in their courage, faith in their faith, and our own best selves in them. West Point is an indispensible institution that has helped sustain our democracy for more than 200 years. About the Author: Donna McAleer graduated from West Point in 1987 and served as an Army Officer. Actively involved in the West Point community, she serves as Class President and is an Admissions Field Representative. Donna was elected to the boards of directors of the West Point Association of Graduates, the West Point Women's Network, and is an advisor to West-Point.org. She is the co-founder of Bugle Notes, an on-line community for West Point graduates and cadets. (www.buglenotes.com). She earned a master's degree from the Darden Graduate School of Business Administration, University of Virginia. An outdoor enthusiast with a particular passion for skiing, Donna lives in Park City, Utah with Ted, her husband, Carlyn Ann, their daughter and Col. (ret) Thayer, their dog. Porcelain on Steel is her first book.
Fortis, 9780984551118, 424pp.
Publication Date: May 14, 2010