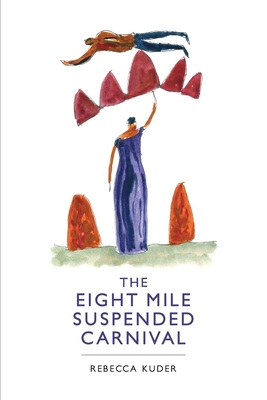 The Eight Mile Suspended Carnival
Paperback

* Individual store prices may vary.
Description
A tornado drops a young woman near the Eight Mile Suspended Carnival, with no memories and no name. The carnies adopt her and call her Mim. The carnival is a living beast: its spine the Tower of Misfortune; its arms the tents; its legs the rides; its blood the wine, food, and excrement flowing through carnies and guests. As Mim adapts to carnival life, she discovers she can see other peoples' memories. She becomes entangled with the carnival boss and his intricate vendetta, and propels vengeance into motion. The Eight Mile Suspended Carnival is a swirling literary-fabulist tale of sexual awakening and noir revenge, where the machines that make dreams are assembled from meat and stardust.
Step into the world of the Eight Mile Suspended Carnival in a time out of time when all things are possible and adaptability is gold. Rebecca Kuder writes like a magical dream. - Ariel Gore, author of We Were Witches
Imagine if you will, a Bosch painting rendered in Froot Loops, projected onto the ceiling of a cathedral, and then sprinkled with glitter. In other words, imagine reading The Eight Mile Suspended Carnival, a vault of riches and innovation, whose very sentences squirm with life, strangeness, and weirdly cheerful foreboding. In other words, this is a book that must be read in order to be believed. - Jim Krusoe, author of The Sleep Garden
"Here, you'll not find the mundane," visitors to the Eight Mile Suspended Carnival are advised. "Here, friends, here you will find the unnamed and impossible." The same can be said for this glorious novel, a novel that, like its star player, Mim, sees beneath the crust of the world. This novel is drenched in sensation and insight, and filled with sentences delicious and surprising. The 8th rule of this extraordinary carnival is "A thing isn't yours until someone gives it you." How deeply lucky we are that Rebecca Kuder has given us this brilliant, thrumming splendor. - Gayle Brandeis, author of Many Restless Concerns
"Rope has memory," the carny says to a girl who has fallen from the sky. The girl has no memories herself but soon discovers she has the power to see the memories of others. Like Dorothy in The Wizard of Oz, a tornado has dropped her in the middle of a strangely recognizable land (in this case the eponymous carnival) and we move with her through this world until we-like her-are over our heads. One of the many pleasures of this exquisitely crafted novel is how Kuder is able to toggle between the recognizable and the strange, between the external and the internal-it creates a pulse that makes the story come alive. - Nick Flynn, author of This Is The Night Our House Will Catch Fire
What Books Press, 9780984578245, 252pp.
Publication Date: October 19, 2021