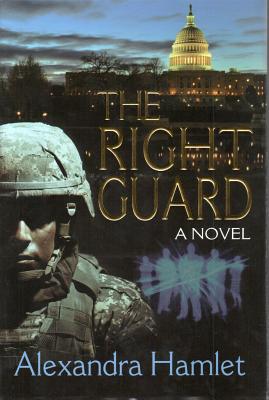 Right Guard
Hardcover

* Individual store prices may vary.
Other Editions of This Title:
Hardcover (11/28/2011)
Description
Over one million military weapons and equipment are missing from the U.S. military inventories across the country. Who is stealing the weapons and why? CIA operative Eric Brent, and his revolutionary light weapon invention, is used by CIA to flush out a secretive, phantom group hostile to a wildly spending, intrusive U.S. Administration that threatens to destroy the American economy and shrink individual freedoms.Hamlet takes you through the twists and turns of the secretive world of intelligence as the undercover assignment goes astray. Eric exposes a far-reaching and well-planned movement and an event that could alter the United States forever. Strained loyalties arise as the phantom group appeals to Eric and his superiors. At the height of his infiltration, a former lover, Jill, reenters his life and places them both in danger. Loyal forces within the intelligence community struggle to learn who is involved and organize counter-moves yet stay undetected. Each question ends in surprise as personal and professional conflicts for Eric arise. He is forced to reach back into his high-ranking father's Nazi Germany past... to solicit help.The year is 1978, yet The Right Guard resembles the present state of the political and economic climate of the U.S. and a possible, eerie scenario and outcome.The Right Guard is an exercise in gripping, fast-paced realism that keeps the reader mesmerized through the eyes of those who live in the intelligence world.
Praise For Right Guard…
"In addition to be an exciting read, and totally plausible, Right Guard deftly explores the in-depth turmoil that field operatives often experience as they navigate both the political and especially moral undertones that are inescapably part of any major clandestine operation.  A must read for any spy aficionado!" 
--Former Senior Operations Officer, CIA
Author's debut novel is believable, spy-thrillerThe FlagshipBy: By A.C. Mink"The Right Guard," Alexandra Hamlet's debut novel, is a spy-thriller set in the year 1978, but reads much like it could be pulled from today's headlines. Details from actual newspaper clippings gives the story a near plausibility and a "what if" quality that is found in good spy-thrillers.As CIA operative Eric Brent works through his own personal issues, he is tasked with infiltrating the Right Guard – a rogue military group that has taken military equipment and ordnance with plans to take over and remake the U.S. using martial law and concentration-like retraining camps.It was a slow start and it took a little bit for me to get used to Hamlet's particular style. She has a background in screenwriting and it's clear because from reading the first few chapters, they read like scenes from a play or a film – short, concise – maybe even a little choppy – as she switches back and forth between Brent and the "good guys," and Deacon Malway, the leader of the Right Guard and his group. Once I got used to the style, I was riveted.Hamlet's talent for creating her characters draws heavily on her background in anthropology. There were a dizzying number of characters – some could probably disappear and some I'd like to have seen fleshed out a bit. However, I'm sure that is something Hamlet will take care of in the next installment. With the major characters, I was pleased to find them realistically drawn in such a way that I felt as if I really knew them. Eric is a complex protagonist who I was rooting for almost from the very beginning. Malway is drawn so evil, there was a point that I just could not cringe enough.Hamlet is a Harvard-trained cultural anthropologist, defense anthropologist and international lecturer. She is a former television host, producer and journalist, and an international consultant on cultural affairs and international business.I'm a girl who likes spy novels and The Right Guard is not disappointing. My only advise to the author – don't be so careful with your language and so heavy-handed with the politically correct vernacular – your characters would not be. But overall a good read. Heavily recommended and I'm looking forward to the next one.
This book is even more believable today than its original setting in the 1970s.  The Declaration of Independence and the Founding Fathers made clear the right of the people to rise against tyranny and institute new government.  The majority of Americans today are convinced that a dominant political class recently ignored the will of the people--nay, thumbed their noses at the people, who obviously do not know what is good for them.
Scary.  Oaths of allegiance are not to politicians in America.
--A Retired General Officer
Without pomp and circumstance, without outrageous language and literary machinations, you led me simply, skillfully and calmly into a cache of information that slowly became overwhelming in its scope and uncomfortably realistic.  It is a profound book.  One I won't forget for a long while.
--Senior Military Officer, Pentagon
This is the most realistic novel I have read about what it feels like to be in the field as a case officer.
--Senior Member of the Intelligence Community, former case officer.
 I have never read a novel with a  beginning  like The Right Guard.
 It is different.  It begins with a dream... actually  Far more reality than reverie .
--Member of the Intelligence Community  


Wow, talk about a page turner.  This story happens in the late 1970 s but is as plausible now as then.  Being an avid reader, an amateur student of history and a 30 year Army veteran, I expected this new novel to be bursting with mistakes.  Not true.  It is one that ranks with  Seven Days In May  and is as believable. 
The story is set during the turbulent time in our post Vietnam War government and during the Watergate scandal.  Many have forgotten the gridlock of the Nixon years due to Watergate and the inability of the Department of Defense to have much influence in foreign policy during the subsequent Carter term.  Our military organizations were concerned our government was accepting the socialist giveaway programs prevalent in England.  
Before the National Guard and the Reserves were integrated as every day partners of the active military, there were those who believed our country was abandoning the people who were loyal to the constitution.  There was much infighting between the Department of Defense, the Central Intelligence Agency and the Federal Bureau of Investigation.  Alexandra Hamlet worked among the top levels of these agencies and was able to craft a story that could have happened then with little notice.  Her timeline was before CNN was copied by other news services and talk radio which would have made the story more apparent.  The novel centers on a now forgotten problem of so-called patriot groups burglarizing National Guard and Reserve armories.
She has interestingly woven her plot around the newspaper articles reporting the thefts of that time.  Her protagonist, Eric Brent, is used by the CIA to infiltrate a high level group who will try to overthrow our government and the institutions that protect our society.  His background is unique and one that helps him fit into the group. 
Each chapter compels the reader to move on to the next.  Alexandra Hamlet maintains the story flow of her characters by labeling them liberally throughout the pages so one does not have to go back and check identities each time they put the book down.  This new novel demands follow on stories and anyone who reads this first one will eagerly await another.
COL Dennis L. Cripps, USA Ret.
January 17, 2012
For those who love stories involving America's intelligence services, The Right Guard by Alexandra Hamlet ($24.95, Foxboro Press, Annapolis, MD) is going to prove a suspenseful and satisfying story with ramifications of present times. Set in 1978, it reflects the present political and economic climate of the United States. Recall that Jimmy Carter was still president and the Iranian hostage taking of our diplomats was still a year away. When more than one million military weapons and equipment are missing from U.S. military inventories across the nation, CIA operatives struggle to find out who is involved in a secretive, "phantom" group hostile to a wildly spending, intrusive U.S. administration. The action is set against the world of intelligence and defense in the 1970s and chapters often begin with actual newspaper articles relating to the topics that are contained in the novel. This is the author's debut novel and one can only hope she has another on the way.
-BookReviews.com
Suspense author visits Belvoir Exchange
January 26, 2012
By Justin Creech, Belvoir Eagle
Interested readers on post flocked to the Fort Belvoir Post Exchange Friday, Saturday and Sunday to pick up a copy of The Right Guard.

The Right Guard, a political fiction novel by Alexandra Hamlet is a suspense-filled journey through the world of intelligence and defense in the 1970's. Though set in 1978, The Right Guard resembles the present political and economic climate of the United States.

The opportunity to get an inside look at the intelligence world attracted people to buy the book.

"I buy lots of books particularly if they have anything to do with war and Soldiers," said Retired Air Force (Col.) Jim Nanjo. "It doesn't matter if it's a novel, historical fiction or non-fiction. I just want to know how people in intelligence see the role of Soldiers and the people who defend the nation."

Hamlet is a Harvard-educated cultural anthropologist, an international lecturer and a defense anthropologist. She was an auxiliary nurse in London, England; international lecturer and consultant specializing in the Far East and Pacific Rim; Special Student and Visiting Fellow, Harvard University; an executive search specialist for world-wide C-suite positions; and is a consultant on irregular warfare.

The book starts at the end of World War II in a German retention camp after the allies had won the war. There are senior German officers living in the camp with their Families and the U.S. Government is deciding whether or not to send them to the Russians, bring them to the United States or put them in prison.

"First, the book is based on events and also my own personal experience," said Hamlet. "I was 14 years in defense and left a couple of years ago. I lived some of this, although this is a novel."
The Right Guard is the first of a trilogy that Hamlet is producing.

The book was published Jan. 1, but there were preorders in November on Amazon.com and with Barnes & Noble. The Right Guard has been ranked in the top 100 political fiction books since late November.

"I really wrote it for the defense and government folks," said Hamlet. "I thought it would be a book they would like to read, but come to find out it is gaining a wide readership in civilian markets as well."

Her experience working with the military and government gave Hamlet a better appreciation for their hard work and sacrifice. She said she wants the rest of the nation to have that same knowledge and appreciation.

"I don't think America knows the military very well," said Hamlet. "I don't think they know how educated they are and how hard these men and women work and how dedicated they are. I don't think anybody does until they've been in the arena."

The remaining books in the trilogy should follow the same context as the first edition in showing what the military and intelligence community goes through.

"Civilians don't think in terms of they go to work and may or may not come home. I don't think servicemembers, police and fire fighters think about it in that term either, but that is, in fact, what they are doing," said Hamlet. "These are people who do it because they love what they do and they don't have to do it. They do it because it's what they want to do. I sometimes think that America doesn't know that very well. It really is the ultimate in service."

Hamlet has already stopped at Andrews and Bolling Air Force Bases on her book signing tour, and relishes the opportunity to meet servicemembers face-to-face.

"I get a thrill out of meeting these people," said Hamlet. "Talking to them and finding out what they like to read and how I can accommodate my next novel."
ALEXANDRA HAMLET: Woman of Mystery and Intrigue
By Linda McGinn Waterman
ShoreLife
Strolling the quaint downtown streets of Easton, St. Michaels, or Oxford, you might be surprised by those who pass you by, their lives and their story. With proximity to Washington, DC, these towns offer reprieve and recluse from otherwise demanding and crowded lives. Government officials, political figures, celebrities, corporate executives, and entrepreneurs "escape the madness" to rest and retire. Alexandra Hamlet is one of these most fascinating individuals. Resident of St. Michaels, Alexandra's career is one paralleled by few.
Often quiet and very private, Alexandra Hamlet's honey-rich accent reflects her Richmond, VA upbringing and an era of Southern warmth and gracious hospitality. When you meet her, you feel first welcomed and second intrigued. Her conversation stimulates your imagination. You learn that she is currently leading an international Executive Search office finding potential candidates for high level leadership positions and at the same time, recently became involved in INFRAGARD, an FBI-sponsored US-wide electric grid infrastructure protection group. This causes you to wonder, "Who is this person with such a wide variety of experience?" And therein lies the mystery.
My recent interview with Alexandra uncovered a woman of intrigue. I learned she had just released her first novel, "The Right Guard," a military suspense thriller set in 1978 and based on actual events and her personal experiences. What kind of experience is required for a woman to write a novel targeting a male audience and focused on military covert operations? I quickly learned… extensive experience.
Raised in a family of four brothers, Alexandra learned the male perspective early in life. She graduated from Westhampton College of the University of Richmond with a degree in Psychology and Journalism. During her studies she took a one-year leave to work for Guys Hospital, London University, London, England where she became auxiliary nurse in Nuffield House, a special wing housing patients including Prime Ministers, sheiks and emirs from the Mid East, and Members of Parliament, other diplomats and embassy officials.
Then upon graduation she began a media career with experiences as Senior Staff writer for an Advertising firm, hosting her own PBS interview program, a field producer for Newsweek Video, New York, and a lecturer in Communications for seven years in America before becoming an international lecturer. In her international tours to countries including Australia, New Zealand, Hong Kong, Singapore, Indonesia, England, Canada, and Thailand she lectured to over 60,000 participants and was a government and military consultant to Australia, New Zealand, and Indonesia. Her specialty was consulting on Communication and Culture of the Pacific Rim where she lived for more than three months of every year for 15 years.
While working oversees, she began consulting with Science Applications International Corporation (SAIC) in McLean, VA, then with the Re-Engineering group at Air Combat Command at Langley Air Force Base, Virginia. Her area of expertise was Senior Level Culture Assessment and cultural modeling. Following this work, she performed Culture Assessment on a Change Management Project for the Air Staff at the Pentagon as well as Edwards AFB, California.
Intrigued by the field, Hamlet pursued a graduate degree in Social and Cultural Anthropology at Harvard dealing with the Cultural Problems in American and International Business and Government. Her special interest was in native and tribal cultures. Upon her graduation she was informed that she was one of only two who had ever graduated from Harvard in this field because it was so new that they didn't yet have a name for it.
Moving to Washington, DC she began her work as Cultural Anthropologist for the Defense Department where for 17 years she worked on Cultural Military Projects and Irregular Warfare. I asked Alexandra what that really meant and she replied, "My role for many different Defense departments as consultant on Senior Level cultural based problems was to bring common sense to cultures in crisis. An example might include providing cultural information to help the US government overcome differences in communication and policies with non-western cultures. "I acted as a bridge attempting to resolve issues based on cultural differences," she explains.
Wondering if that was actually dangerous, trying to negotiate possibly volatile situations, I asked her. "Yes, it could be dangerous," Hamlet said. She was involved in several such situations often summoned at a moment's notice. She ultimately completed her 17 year work with Defense when she decided to make yet another change in her focus. She was asked to lead a team into one danger zone and was unable to go at the last minute due to a pending medical operation. All members of the team did go, and all died except one.
When asked a second time for a subsequent mission, Colonel David C. Prevost, her husband and military graduate of the Air Force Academy, advised her to pass, in concern for her safety.
She states matter-of-factly, "I have been extremely fortunate over the years to be involved in some interesting situations and have truly loved being associated with the extraordinarily talented US defense forces."
I later learned that Alexandra was actually a pioneer in this field of Cultural Anthropology as relates to the military with a focus on irregular warfare. When I later researched the term "irregular warfare," it is defined as warfare employing the tactics commonly used by irregular military organizations. 'Irregulars' are not usually representative of a recognized state. They're made up of insurgents, unrecognized (as legitimate) forces, or forces using irregular methods such as terrorism. This warfare involves avoiding large-scale combats, and instead focusing on small, stealthy, hit and run engagements. I'm imagining undercover operations and otherwise rarely or never spoken of military pursuits were the focus of some portion of Alexandra's work though, of course, she makes no comment or claim in that regard.
Qualified to write a military suspense novel? Absolutely. Maybe more than we will ever know. During Alexandra's recent autograph signing at Easton's News Center, military officials from Washington, DC drove to the event early to be the first to arrive, concerned that copies might be sold out. One Senior Member of the Intelligence Community and former case officer says about "The Right Guard," "This is the most realistic novel I have read about what it feels like to be in the field as a case officer." Another Member of the Intelligence community writes, "I have never read a novel with a 'beginning' like The Right Guard. It is different. It begins with a dream…actually 'Far more reality than reverie.'"
So the next time you wander the streets of an Eastern Shore town, why not stop and greet your neighbor? You never know who you might meet.
Foxboro Press LLC, 9780984649303, 365pp.
Publication Date: January 1, 2012
About the Author
Alexandra Hamlet is a Harvard-trained cultural anthropologist, an international lecturer and a defense anthropologist. She is a former television host, producer, and journalist, and an international consultant on cultural affairs and international business. She was an auxiliary nurse in London, England; international lecturer and consultant specializing in the Far East and Pacific Rim; Special Student and Visiting Fellow, Harvard University; an executive search specialist for world-wide C-suite positions; and is a consultant on irregular warfare. This is her first novel.
or
Not Currently Available for Direct Purchase