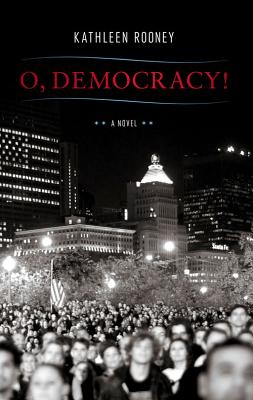 O, Democracy!
Hardcover

* Individual store prices may vary.
Description
It's late spring of 2008, and one of Illinois' two Democratic senators is poised to become the next president of the United States. Colleen Dugan works for the other one—not on Capitol Hill, but in a Chicago skyscraper that overlooks Lake Michigan, among coworkers with little to do but field calls from angry constituents while the future of the nation gets decided elsewhere. In the coming weeks, Colleen will navigate the perils of costumed protestors, thuggish union reps, vacuous interns, trifling bureaucrats, dirty tricks by the senator's Republican rival, and the unexpected discovery of a scandalous secret that will give her the power to change the course of the election and shape her own fate—though not necessarily for the better. A quarter-life crisis viewed from the ghostly perspective of the Founding Fathers, this is a hilarious and heartbreaking story about American politics and the difficult business of being a good citizen: walking the tricky line between self-sacrifice and self-sabotage, between doing your part and knowing your place.
Praise For O, Democracy!…
"O, Democracy! is a rare literary creation: an often very funny novel that looks with an unblinking eye at the inherent contradictions in today's political and cultural landscapes. Kathleen Rooney's debut novel is ambitious, smart, and hard to put down." —Christine Sneed, author, Little Known Facts


"With
O, Democracy!,
Kathleen Rooney makes a swift and seamless transition from poetry to fiction, pairing her skill for image with a fresh voice, humor, and a keen eye for the political world she navigates here. An exciting debut." —Elizabeth Crane, author,
We Only Know So Much
"O, Democracy! infuriates and inspires. Rooney has written a brilliant and fiercely readable novel of politics and ideals, both an indictment and a celebration of the American Experiment, which will leave you breathless." —Jonathan Evison, author, West of Here
Fifth Star Press, NFP, 9780984651092, 416pp.
Publication Date: April 22, 2014
About the Author
Kathleen Rooney is a founding editor of Rose Metal Press and a founding member of the typewriter poetry collective Poems While You Wait. Her essays and criticism have appeared in "Allure," the "Believer," the "Nation," the "New York Times," the "Washington Post," and elsewhere. She is the author of "For You, For You I Am Trilling These Songs" and "Robinson Alone." She lives in Chicago.
or
Not Currently Available for Direct Purchase