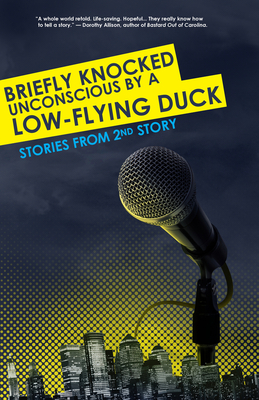 Briefly Knocked Unconscious by a Low-Flying Duck (Paperback)
Stories from 2nd Story
Elephant Rock Productions, Inc., 9780984670062, 227pp.
Publication Date: November 12, 2012
* Individual store prices may vary.
Description
This anthology of short, personal essays brings a vibrant oral tradition to the page through the work of 2nd Story, a Chicago-based collective working to build community through storytelling. These original, unpublished essays are adapted from the group's monthly events, which fuse page, stage, and sound to deliver a unique, live literary and theatrical experience. Contributors include Sam Weller, Patricia Ann McNair, Eric Charles May, and Randall Albers.
About the Author
Andrew Reilly is the director of publications at 2nd Story. His writing has appeared in Alarm, the A.V. Club, and Norman Einstein's Sports & Rocket Science Quarterly. Megan Stielstra teaches writing and performance at Columbia College Chicago and the University of Chicago and is the literary director for 2nd Story. She is the author of "Everyone Remain Calm." They both live in Chicago.
Praise For Briefly Knocked Unconscious by a Low-Flying Duck: Stories from 2nd Story…
"A whole world retold. Life-saving. Hopeful. They really know how to tell a story."  —Dorothy Allison, author, Bastard Out of Carolina


"Funny, compelling, intimate, raw, and always surprising, Briefly Knocked Unconscious By A Low-Flying Duck is storytelling at its absolute best. From porn queens to tooth fairies, blood clots to sobriety, prepare to be awestruck, dumbstruck, thunderstruck, and perhaps struck by low-flying fowl. These are stories you will want to read out loud to your friends."  —Dinty W. Moore, author, The Mindful Writer


"The best part about the stories in this collection isn't that they're captivating (though they are). And it isn't that they bring a tear just as much as they'll bring a smile (though they will). And it's not that they'll introduce you to some of Chicago's most incredible new writing talent (though that'll happen too). No, the best part about these stories in this collection is that they are true."  —Dan Sinker, author, The F***ing Epic Twitter Quest of @MayorEmanuel


"These fresh voice-driven narratives will make you laugh and ache. A wonderful collection with the heart of true storytellers."  —Heidi W. Durrow, author, The Girl Who Fell From the Sky


"To capture the authority of the stories 2nd Story tells is to chronicle our lives, to leave a legacy of our triumphs and struggles, our hopes and heartbreaks. I cannot wait for you to get your hands on it."  —Willa Taylor, director of education and community programs, Goodman Theater


"This collection gathers some of the 2nd Story's best-told, completely true tales. In print, these stories resemble personal essays, yet they have a far looser, more conversational flow, thanks to their oral roots. How the story sounds is as important as, if not more important than, how it reads."  —Patty Wetli, Booklist


"Each piece in Briefly Knocked Unconscious is like a particularly flavorful berry—self-contained, juicy, and keeps you reaching for more. Awareness of the original medium ushers in strong visuals: layouts of places, and great descriptions of people, for example. These stories are some of the most vivid short pieces around."  —Examiner.com


"The stories are endlessly relatable and their tellers are true masters of the craft, able to make you laugh, make you cry, and make you want to do it all over again once you've finished. This collection will demand, and receive, return trips from its readers."  —Publishers Weekly
or
Not Currently Available for Direct Purchase