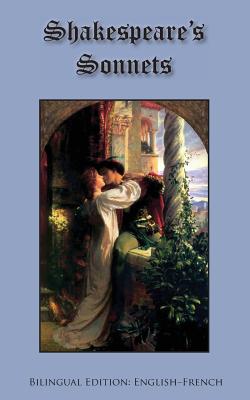 Shakespeare's Sonnets
Bilingual Edition: English-French
Paperback

* Individual store prices may vary.
Other Editions of This Title:
Digital Audiobook (10/9/2005)
Paperback (12/4/2012)
Paperback (12/4/2012)
Paperback (8/8/2020)
Paperback (11/9/2020)
Paperback (11/30/2020)
Paperback (11/1/2008)
Paperback (2/24/2021)
Paperback (1/5/2014)
Paperback (3/11/2016)
Paperback (11/24/2015)
Paperback, German (5/14/2014)
Paperback (6/22/2017)
Paperback (5/10/2015)
Paperback (8/8/2020)
Paperback (12/6/2019)
Paperback (11/15/2020)
Description
William Shakespeare was born in Stratford-upon-Avon in 1563 or 1564. At 18, he married Anne Hathaway, who was already pregnant with the first of their three children. William left her and the children in Stratford to pursue an acting career in London, where he also began writing and became part owner of an acting company called the Lord Chamberlain's Men. Around 1613, Shakespeare returned to Stratford and died there. His plays have been translated into every major modern language and are performed around the world more than the works of any other playwright. This collection of all 154 sonnets was first published in 1609. The sonnets deal with the themes of the passage of time, love, beauty, and morality and were the last of Shakespeare's non-dramatic works to be printed. This bilingual edition is designed to assist those learning French. The English text appears on the left-hand pages of the book, with the corresponding French on the right-hand pages. Other bilingual books available from Sleeping Cat Books:
The Picture of Dorian Gray
Selected Works of Edgar Allan Poe
Fables of Jean de La Fontaine
Candide
New Fairy Tales for Small Children
The Count of Monte Cristo (Unabridged)
The Tales of Mother Goose
The Last of the Mohicans
Sleeping Cat Books, 9780984679881, 316pp.
Publication Date: June 22, 2013