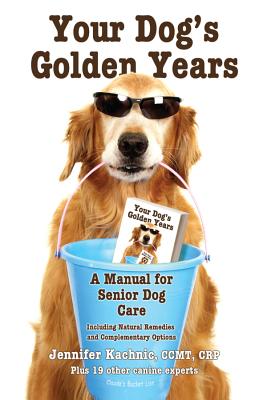 Your Dog's Golden Years (Paperback)
A Manual for Senior Dog Care Including Natural and Complementary Options
Canine Wellness, LLC, 9780984706518, 277pp.
Publication Date: March 24, 2012
* Individual store prices may vary.
Description
       Twenty canine experts reveal the stages of your dog's life, ailments he may encounter and provide remedies and solutions for your senior dog's care. They share therapies, treatments and simple techniques for the senior dog that embrace both veterinary and natural practices.
       Your Dog's Golden Years provides you the information, answers and options you need. With them, you become empowered to make the best decisions for your senior dog's care. Throughout, you will be guided by a variety of canine professionals who love and care for them. You and your dog will benefit from their wisdom and expertise as they share experiences about their own as well as of thousands that they have skillfully treated and nurtured through the years.
       Your Dog's Golden Years book delivers the answers and tools to help you provide your senior dog with a longer, happier and healthier life.
About the Author
Jennifer Kachnic is the President of The Grey Muzzle Organization which provides funding to animal shelters and rescues nationwide for senior dog programs.  She is a certified Canine Massage Therapist, Animal Reiki Practitioner and a Therapy Dog Handler.