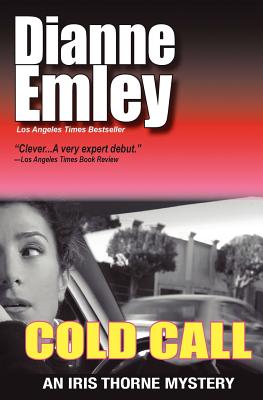 Cold Call
Iris Thorne Mysteries - Book 1
Paperback

* Individual store prices may vary.
Description
Cold Call is the first in the critically acclaimed Iris Thorne Mystery series by Los Angeles Times bestseller Dianne Emley, now available for the first time as an e-book and trade paperback. Includes bonus: the first chapter of Slow Squeeze, the second Iris Thorne mystery.
Iris Thorne traded her job teaching the deaf for a career in Los Angeles' glittering financial district, where the day starts on Wall Street time at 6:00 a.m., and-in the "greed is good" late 1980s-all of life's questions have numbers for answers.
Big numbers. With her not-quite-paid-for Anne Klein suits and Triumph sports car, which leaks a little oil, Iris is a high-stakes success. Still, the only man at the office who knew the real Iris was Alley, the deaf and handicapped mailman. When Alley is killed, the police insist he was a victim of random gang violence. Iris doesn't buy it-and Alley's death has left her with several problems. The first is lanky, red-headed police detective John Somers. . . Iris's first love, back in her life after twenty years. Then there's Alley's secret legacy-a safe deposit box filled with souvenirs and some well-worn items of sentimental value: 238,000 of them, in hundreds, bundled together with rubber bands.
The cops are looking for a killer. Some professional hard guys are looking for revenge. And, for a lost friend, Iris is looking for justice-a high-priced commodity in L.A., where life can be even cheaper than dreams
"Robert B. Parker had Boston, Sara Paretsky Chicago, and now L.A. belongs to Dianne Emley]." -Nancy Pickard, author of The Scent of Rain and Lightning
" Emley] has portrayed a brokerage firm] with fine, cold malicious glee. . . . As at Scott Turow's Chicago law firm, you do wonder what they'll say at the water cooler. . . . Clever. . . A very expert debut." -Los Angeles Times Book Review
"One of the best author debuts in many moons. . . . Clever writing, characters shining with individuality. . . impressive." -Cleveland Plain Dealer
"An exciting find. Only one word for it: Wow " -The Observer (London)
" Dianne Emley's] Iris Thorne is here to stay."-New York Newsday
"A fun and satisfying read." -West Coast Review of Books
The Iris Thorne Mysteries
Cold Call
Slow Squeeze
Fast Friends
Foolproof
Pushover
The Detective Nan Vining Thrillers
The First Cut
Cut to the Quick
The Deepest Cut
Love Kills
Arroyo Bridge Books, 9780984784653, 300pp.
Publication Date: November 29, 2011
About the Author
Dianne Emley is a Los Angeles Times bestselling author and has received critical acclaim for her books which include the Detective Nan Vining thrillers: The First Cut, Cut to the Quick, The Deepest Cut, and Love Kills and the Iris Thorne mysteries: Cold Call, Slow Squeeze, Fast Friends, Foolproof and Pushover. Her books have been translated into six languages. A Los Angeles native, she lives in California with her husband.