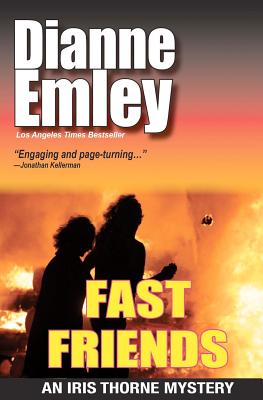 Fast Friends
Iris Thorne Mysteries
Paperback

* Individual store prices may vary.
Description
Fast Friends is the third in the critically acclaimed Iris Thorne Mystery series by Los Angeles Times bestseller Dianne Emley. Includes bonus material: Chapter One of Foolproof, the fourth in the Iris Thorne series.
A sexy and surefooted investment counselor, who made her ride to the top in her red Triumph, circa 1972, Iris Thorne seems unshakable. She's never looked back on her long climb up-certainly not as far back as her blue-collar roots in East Los Angeles. But the suicide of Dolly DeLacey, the mother of Iris's childhood friend, Paula, has hit harder than the latest L.A. quake in 1994-and the aftershocks are just beginning.
At the request of Dolly's husband, a slumlord with low friends in high places, Iris must locate the wayward Paula and bring her home for her mother's funeral. But Iris has inside information that makes returning to the old neighborhood a potentially deadly task-and casts Dolly's suicide in a suspicious light. Now, Iris dredges up an explosive memory she's kept hidden for years, a shocking secret that may help her solve an almost perfect murder-or bring her down in an act of long-awaited vengeance...
"Sharp and stylish. . . a multistranded complex of lies, betrayal, and desperation. . . that strips bare the politics of relationships. Clever and cool." -Val McDermid, Manchester Evening News (UK)
"An engaging and page-turning blend of family psychopathology, financial and political shenanigans, and California entropy." -Jonathan Kellerman
"A tightly knit, unpredictable tale. With her bold moral compass, her appealing in-your-face attitude and unsettled romantic life, Iris is a compelling heroine." -Publishers Weekly
Iris Thorne is] sleek, smart and refreshingly bitchy. . . Any heroine so ambitious and quirkily original that she'll sneak peeks into her associates' lunch bags for clues to their home lives deserves our undivided attention." -Los Angeles Times Book Review
" Emley's] real achievement here is making every single person Iris is attached to look suspicious and guilty." -Kirkus Reviews
The Iris Thorne Mysteries
Cold Call
Slow Squeeze
Fast Friends
Foolproof
Pushover
The Detective Nan Vining Thrillers
The First Cut
Cut to the Quick
The Deepest Cut
Love Kills
Arroyo Bridge Books, 9780984784677, 346pp.
Publication Date: February 6, 2012
About the Author
Dianne Emley is a Los Angeles Times bestselling author and has received critical acclaim for her books which include the Detective Nan Vining thrillers: The First Cut, Cut to the Quick, The Deepest Cut, and Love Kills and the Iris Thorne mysteries: Cold Call, Slow Squeeze, Fast Friends, Foolproof and Pushover. Her books have been translated into six languages. A Los Angeles native, she lives in California with her husband.