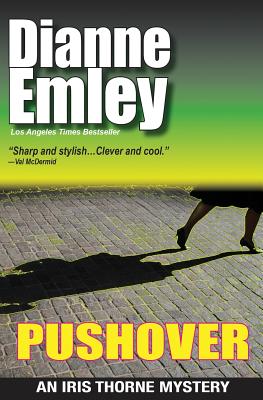 Pushover
Iris Thorne Mysteries - Book 5
Paperback

* Individual store prices may vary.
Description
Pushover is the fifth in the critically acclaimed Iris Thorne mystery series by Los Angeles Times bestseller Dianne Emley, now available for the first time as an e-book and trade paperback.
Sexy and savvy Iris Thorne has made it to the big corner office of the glittering yet cutthroat Los Angeles investment firm, McKinney Alitzer. She's looking ahead to a bright future with new boyfriend Garland Hughes when the past comes calling. Iris's ex-fianc Todd Fillinger surfaces after many years and invites Iris to participate in a lucrative new venture in the wild and woolly emerging Russian market--red-hot yet dangerous in the 1990s following the collapse of the Soviet Union. Iris is intrigued, not least because she has some personal business still to settle with Todd. But only hours after she's been met by Todd in Moscow, he's gunned down in front of her.
Horrified, Iris manages to return at least physically unscathed to the comforting familiarity of her L.A. beachfront bungalow and Garland's arms. She's brought with her Todd's ashes which she's agreed to deliver to his devastated sister. Only then does she learn that L.A. can be even more terrifying than Moscow and that the guilt-laden legacy of Todd Fillinger could destroy her.
Praise for Dianne Emley's Iris Thorne Mysteries:
Iris Thorne is] "sleek, smart and refreshingly bitchy. . . Quirkily original... Deserves our undivided attention."--Los Angeles Times Book Review
"Engaging and page-turning..."--Jonathan Kellerman
"With her bold moral compass, her appealing in-your-face attitude and unsettled romantic life, Iris is a compelling heroine."--Publishers Weekly
"Sharp and stylish. . . Clever and cool."--Val McDermid, Manchester Evening News (UK)
"Iris Thorne] is here to stay."--Observer London]
The Iris Thorne Mysteries
Cold Call
Slow Squeeze
Fast Friends
Foolproof
Pushover
The Detective Nan Vining Thrillers
The First Cut
Cut to the Quick
The Deepest Cut
Love Kills
Arroyo Bridge Books, 9780984784691, 286pp.
Publication Date: April 10, 2013
About the Author
Dianne Emley is a Los Angeles Times bestselling author and has received critical acclaim for her books which include the Detective Nan Vining thrillers: The First Cut, Cut to the Quick, The Deepest Cut, and Love Kills and the Iris Thorne mysteries: Cold Call, Slow Squeeze, Fast Friends, Foolproof and Pushover. Her books have been translated into six languages. A Los Angeles native, she lives in California with her husband.