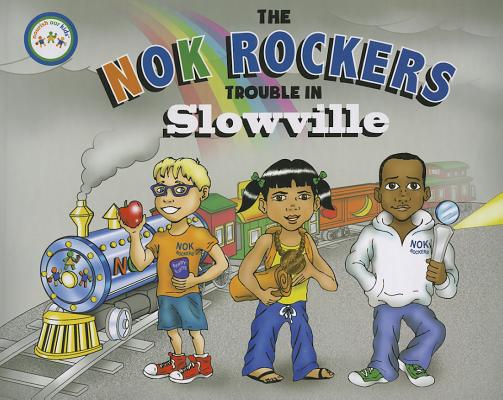 The NOK Rockers
Trouble in Slowville
Hardcover

* Individual store prices may vary.
Description
Join the NOK Rockers on their first nutritional adventure to the troubled town of Slowville, where everything is black and white and the people are slow and sleepy. Together, Saranna, Isaiah, and James, with the help of their guide and friend Zoe, must solve the mystery of this town's colorlessness, all the while being thwarted by the town bully, Junk Food Jammer. Can the NOK Rockers find a way to stand up to Junk Food Jammer and transform the town into a kaleidoscope of color once again? Or will Junk Food Jammer rule Slowville forever?
Nourish Our Kids, 9780984822102, 44pp.
Publication Date: December 1, 2011
About the Author
Donna Terjesen is a certified holistic health counselor and founder of Nourish Our Kids, Inc. Her experiences as a mother of three young daughters, her background in nutritional education and her recovery from a diagnosis of multiple sclerosis in 1992 were the catalysts that led her to create Nourish Our Kids, Inc. in 2003.Angela Pariselli Velez joined Nourish Our Kids, Inc. in 2004 to support the company's goals in marketing, branding, product development, finances, and outreach efforts. As she has struggled with her own weight loss challenges due to a variety of life events and personal stresses, she is strongly committed to the company's goals in ending childhood obesity.Mark Biddison had an early love of comic books and monster movies that ignited his passion for art and drawing. Illustrating a children's book has always been one of his lifetime goals. He has worked in all phases of commercial art for the past twenty years including freelancing illustration, graphic design, fashion drawing, and visual merchandising.
or
Not Currently Available for Direct Purchase