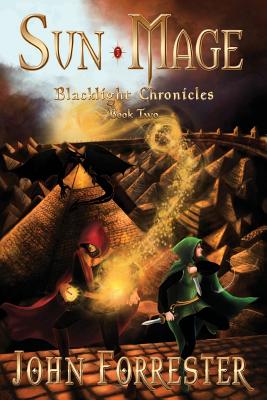 Sun Mage
Blacklight Chronicles
Paperback

* Individual store prices may vary.
Description
Praise for Sun Mage:
"Sun Mage...was AWESOME The fast pace for this book, like the first one, makes it a great read for pre-teens, teens and adults... I literally could not put Sun Mage down... I give this book 5 Ravens and now I am DYING to read the next one. I anxiously await its arrival." --Great Minds Literary Community
Book Two in the Blacklight Chronicles fantasy series:
Far out to sea, a mysterious island holds the ancient city of Darkov. The immortal sorcerer Aurellia awaits the arrival of Talis and Mara. The Temple of the Sun lures both dark and light forces to discover its power.
Talis and Mara will have to use their wits to escape slavery and trek out into the jungle. Foul fields of undead will trap them. Twin ancient cities, one of light and one of darkness, one ruined and one hideous in its power. Only one map can guide them.
But can they bear to enter the land of the dead? To face the God of the Underworld himself? If they fail, their family and city will fall to the Jiserians. And the world itself will slip into darkness. Unless Talis can first unlock the power of light magic.
Amber Muse, 9780984825936, 230pp.
Publication Date: January 14, 2012
About the Author
John Forrester is the author of Fire Mage and Sun Mage, of the fantasy series Blacklight Chronicles. He lives in Palo Alto with his wife and two boys.