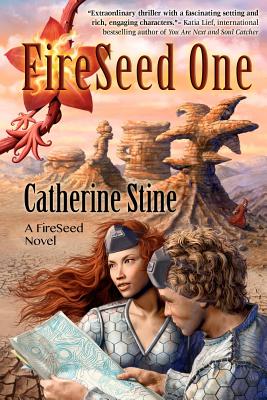 Fireseed One (Paperback)
Konjur Road Press, 9780984828203, 298pp.
Publication Date: December 2, 2011
* Individual store prices may vary.
or
Not Currently Available for Direct Purchase
About the Author
Catherine Stine writes YA, New Adult and middle grade fiction. Her YA futuristic thriller, Fireseed One, illustrated by the author won finalist spots in both YA and Science Fiction in the 2013 USA Book News International Book Awards. It was also granted a 2013 Bronze Wishing Shelf Book Award and a 2013 Indie Reader Approved notable stamp. Her YA Refugees, earned a New York Public Library Best Book. Middle grade novels include A Girl's Best Friend. Fireseed One's 2013 sequel, Ruby's Fire is earning advance praise from reviewers and authors: Ruby's Fire, returns to the sun-scorched earth of Fireseed One. In this long-awaited sequel, Stine delivers a thrilling adventure led by a new and exciting cast of characters. Ruby, Armonk, Thorn and Blane are memorable, and the romance is really well handled. Favorite quote: " It feels wrong to lean on Armonk right now with Blane staring at me, a hungry, lonely look in his eye. It's as if he's never been hugged, never been fed, never been loved..." " -YAs the Word Ruby's Fire, the second novel in the haunting Fireseed series unfolds layer by layer, like a Fireseed plant reaching out and calling you to figure out the mystery, mystery. What's revealed is even creepier than expected in a world already steeped in exotic technology and bioengineered strangeness. Great science fiction imaginatively told, Ruby's Fire is a wonderfully crafted story that will make you think . -Susan Kaye Quinn, indie bestselling author of The Mindjack Trilogy More and more, Catherine enjoys writing speculative tales where her imagination has wild and free reign. She has taught creative writing workshops at the Philadelphia Writing Conference, Missouri University Summer Abroad, The New School and in her own ongoing NYC writing workshop. She loves her readers, and enjoys blogging. Visit her at www.catherinestine.blogspot.com and at www.catherinestine.com.
Advertisement