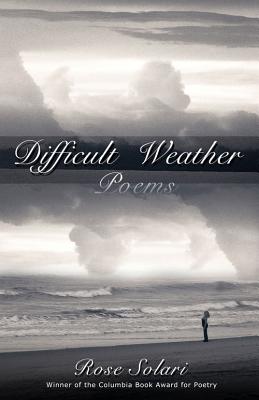 Difficult Weather (Paperback)
Santa Fe Writer's Project, 9780984832972, 80pp.
Publication Date: November 1, 2014
* Individual store prices may vary.
Description
This new edition of the first full-length collection of poems by award-winning writer Rose Solari provides an important window into the origins and early influences of this now-established poet and novelist. Though most of these poems are set in Washington, DC, and its less affluent suburbs, their lyrical, often elegiac depictions of family and neighborhood life, first love and first losses, will be sure to touch anyone who, like Solari, grew up in a place "more interesting than safe." In selecting Difficult Weather for the Columbia Book Award, Carolyn Forché, now Director of the Lannan Center for Poetry, said of Solari, "Her language is by turns raw and luminous, her perceptions uncommonly acute, and her vision at once incisive and compassionate." Michael Collier, Director of the Bread Loaf Writer's Center, wrote that she is "a poet of passion and precision… Difficult Weather will delight and surprise us all."
This edition features a new introduction by poet and translator Katherine E. Young, who places Solari's early work in a national context, and traces some of the poet's most powerful influences, such as the work of Anne Sexton. Its publication, timed to coincide with that of Solari's third poetry collection, The Last Girl, insures that all of Solari's published poetry collections are now in print, for her fans to savor and for new readers to discover.
About the Author
Rose Solari's awards include an Academy of American Poets' University prize, The Randall Jarrell Poetry Prize, The Columbia Book Award for poetry, and an EMMA award for excellence in journalism.
Praise For Difficult Weather…
"Difficult Weather is a poetry of neighborhoods more interesting than safe, a world determined by coincidence, longing, and the repeatable magic of the quotidian. Her language is by turns raw and luminous, her perceptions uncommonly acute, and her vision at once incisive and compassionate." —Carolyn Forché, poet, from the Judge's Statement awarding the first edition of Difficult Weather with the Columbia Book Award
"The "first infatuation," Rose Solari reminds us, is with "speed." Speed here is not the result of time over distance, but is the velocity of the heart as it takes us to our difficult and inevitable destinations. Solari is a poet of passion who writes with care and precision. Difficult Weather will delight and surprise us all." —Michael Collier, Director, Bread Loaf Writers' Conference
"The poignant tone often found in these pages is sometimes born of a roughness, of images wrested from some of life's dirtier windshields. Solari's willingness to risk such detail reminds me of the muted whispers of trumpeter Miles Davis, or the singing of the mature Billie Holiday. Like them, Solari has a deep understanding of the sound of language." —Reuben Jackson, poet and curator, the Smithsonian's Duke Ellington Collection
or
Not Currently Available for Direct Purchase