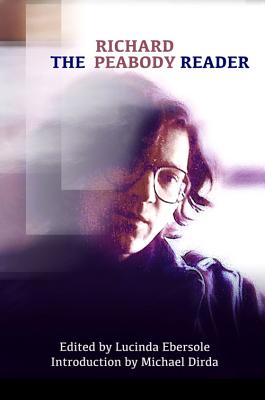 The Richard Peabody Reader (Legacy Series)
Paperback

* Individual store prices may vary.
Description
Filling an important gap in the literary world, The Richard Peabody Reader is a wide-ranging selection of this great writer's poetry and prose. As a publisher, Peabody's steadfast dedication to that which is new, challenging, innovative, and dynamic has won him a wide reputation among writers whose work he has championed. This volume demonstrates those same values, embodied in nearly four decades of fiercely smart, sophisticated, and often very funny writing. From his first collection of poems, I'm in Love with the Morton Salt Girl, to his most recent collection of short stories, Blue Suburban Skies, Peabody has established and developed a thoroughly unique voice, both warm and piercing, to deliver content that ranges from the hilarious, as in the short story "Flea Wars," to the bittersweet, as in the poem "The Other Man is Always French," to the elegiac, as in the poem in "Civil War Pieta," to the absurd, as in the rollicking farce of the short story, "Bad Day at Ikea." Peabody's aesthetic is all-embracing—strands of punk, beat, experimental, feminist, and political protest literary influences blend with the purely romantic to create a body of work that is both profound and pleasing.
This series is devoted to career-spanning collections from writers who meet the following three criteria: The majority of their books have been published by independent presses; they are active in more than one literary genre; and they are consistent and influential champions of the work of other writers, whether through publishing, reviewing, teaching, mentoring, or some combination of these. Modeled after the "readers" popular in academia in the mid-20th centuries, our Legacy Series allows readers to trace the arc of a significant writer's literary development in a single, representative volume.
Praise For The Richard Peabody Reader (Legacy Series)…
"Peabody shows it all here, tragedy, humor, joy,wit, and compassion, and speaks for a generation of adults who are still trying to figure it out in our age of decadence." —Scott Whitaker, the Broadkill Review
"The life work of this proud, bitter, principled, generous man and the immeasurable service he has done on behalf of literature command respect and deserve attention." —Michael Lindgren, the Washington Post
"This is a top-notch production . . . terrific and eclectic." —Nathan Leslie, the Pedestal magazine
Santa Fe Writer's Project, 9780984832989, 500pp.
Publication Date: April 1, 2015
About the Author
Richard Peabody is the founder and current editor of Gargoyle Magazine, now on its 61st issue, and editor (or co-editor) of twenty-two anthologies including Mondo Barbie, Conversations with Gore Vidal, and A Different Beat: Writings by Women of the Beat Generation. The author of a novella, three short story collections, and seven books of poetry. A native Washingtonian, he has taught fiction writing workshops at various locations in the DC area since 1985, though primarily for the Johns Hopkins Advanced Studies Program since 1995 where he was awarded The Johns Hopkins University Excellence in Teaching Award, 2010-2011, and the Faculty Award for Outstanding Professional Achievement (Master of Arts in Writing Program), 2005. He has held residencies at Blue Mountain Center, Byrdcliffe, and the Virginia Center for the Creative Arts. He also won the Beyond the Margins "Above & Beyond Award" for 2013.  Lucinda Ebersole is a critic, an editor, and a fiction writer best known for her association with the literary journal Gargoyle Magazine, for which she has been coeditor along with Richard Peabody since 1997. She has also edited various anthologies with Peabody, most notably the various books in their Mondo series. Michael Dirda is a Pulitzer Prize–winning columnist for the Washington Post Book World and the author of the memoir An Open Book and four collections of essays: Book by Book, Bound to Please, Classics for Pleasure, and Readings. They all live in Washington, DC.
or
Not Currently Available for Direct Purchase