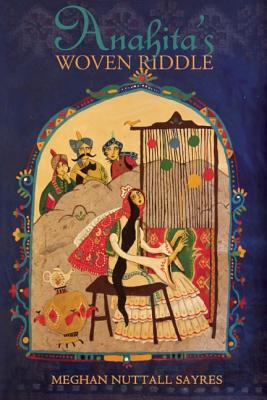 Anahita's Woven Riddle
Paperback

* Individual store prices may vary.
Description
"A richly textured, carefully researched novel . . . excellent use of Sufi poetry and a strong cast of characters make this more than memorable. Romantic, delightful and educational too "--"Kirkus Reviews"
"An engrossing story that weaves in Persian culture, history, and surroundings, and portrays the life of a unique young woman and her quest for love."--"School Library Journal"
""Anahita's Woven Riddle" offers a glimpse into a world not many books enter. Sayres does an excellent job developing characters that intrigue and tug at the heart."--"Historical Novels Review"
When Anahita, a nomadic weaver in nineteenth-century Iran, learns that her father wants her to wed the leader of her tribe--a man she finds repulsive--she designs her own fate by weaving a riddle into her wedding carpet, which suitors must guess to win her hand.
"Anahita's Woven Riddle" includes a discussion and study guide, Persian interior art, and brand new cover art by award-winning Tehran-based artist Rashin Kheirieh.
Meghan Nuttall Sayres is a tapestry weaver who has traveled in Turkey, Iran, and Central Asia, where she has met with scholars, carpet weavers, dyemasters, and merchants to study the age-old techniques, symbolism, and Sufi poetry that infuse many rugs woven throughout the Middle East. Her debut novel "Anahita's Woven Riddle" has been translated into several languages. Among other distinctions, it was chosen as an American Library Association (ALA) Top Ten Best Book, an American Booksellers Association Book Sense/Indie Pick, and an ALA Amelia Bloomer Feminist Choice Book.

Nortia Press, 9780984835928, 354pp.
Publication Date: February 12, 2013
About the Author
Meghan Nuttall Sayres is a tapestry weaver who has traveled in Turkey and Iran, where she has met with scholars, carpet weavers, dyemasters, and merchants to study the age-old techniques, symbolism, and Sufi poetry that infuse many rugs woven throughout the Middle East. Her debut novel"Anahita's Woven Riddle" has been translated into several languages. It was chosen as an American Library Association (ALA) Top Ten Best Books, an American Booksellers Association Book Sense/Indie Pick, an ALA Amelia Bloomer Feminist Choice Book among other awards. Her most recent fiction is "Night Letter," a companion novel to "Anahita." They are both being released by Nortia Press in the Fall of 2012. Other books by Meghan include, "Weaving Tapestry in Rural Ireland" and "Daughters of the Desert: Tales of Remarkable Women From the Christian, Jewish and Muslim Traditions" (co-author), and she is editor of the anthology "Love and Pomegranates: Artists and Wayfareres on Iran." In Meghan's living room in Washington State is a carpet much like the one Anahita weaves for her riddle contest. For more information about the author and this book, including discussion guides, please visit www.meghannuttallsayres.com
or
Not Currently Available for Direct Purchase