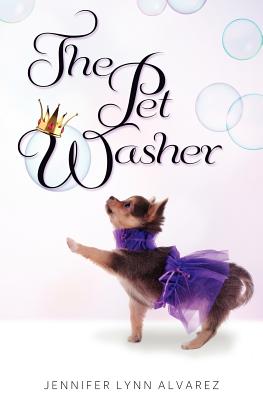 The Pet Washer
The Pet Washer Series
Paperback

* Individual store prices may vary.
Description
From the author of THE GUARDIAN HERD and RIDERS OF THE REALM series comes a whimsical tale about friendship, lemonade parties (where everyone wears yellow, even the pets), and adorable animals The Pet Washer, published in 2012, is the author's indie novel. It's spring break for the princesses of the seven kingdoms. As the royal families flock to their second castles on the island of Windym, the townsfolk struggle to keep up with their outrageous demands. Cianna works overtime at The Royal Pet Palace and Day Spa. She is the pet washer. Here, animals are cleaned, massaged, bedazzled, and dyed to match the outfits of their masters. Cianna is popular with the pets because she invents special shampoos, flea treatments, pet foods, and toothpastes to keep them as healthy as they are clean. Polly is the princess. She owns the finest dresses, the fastest horses, the largest castle, and befriends the prettiest royals in the seven kingdoms. When Polly discovers Cianna, she believes she's found the perfect girl to add to her upcoming dance performance. But as the two prepare for the Spring Festival, their worlds collide in unexpected ways "The Pet Washer is an incredible tale of an unlikely friendship." -Beachbound Books"I give 'The Pet Washer' 5 out of 5 book worms " -Erik, This Kid Reviews Books"The Pet Washer is carefully built, layer by layer without rushing to the end." -Kid Lit Reviews "I give the book five stars all the way around." -The LL Book Review"The Pet Washer is wonderfully creative, beautifully written...READY FOR BOOK TWO NOW." -Shaylene King, Founder of The Mean Girl Extinction Project (TMGEP)"Just perfect for tween girls " -Jennifer Ratcliffe, M.D."A prime piece of praiseworthy preciousness." -North Bay Bohemian.
Dreamcatcher Books, 9780984848454, 180pp.
Publication Date: July 21, 2012
About the Author
Jennifer Lynn Alvarez received a degree in English Literature from U.C. Berkeley. She lives on a small ranch Northern California with her husband, three children, and more than her fair share of pets. Jennifer draws on her lifelong love of animals when writing her books. Jennifer is also the author of THE GUARDIAN HERD series, a complete set of fantasy adventures starring flying horses: #1 STARFIRE, #2 STORMBOUND, #3 LANDFALL, #4 WINDBORN. Please visit Jennifer at www.jenniferlynnalvarez.com To learn more about THE GUARDIAN HERD series, take quizzes, and play games, please visit: www.theguardianherd.com. Follow the author on Twitter @JenniferDiaries and on Instagram @ jennifer_lynn_alvarez