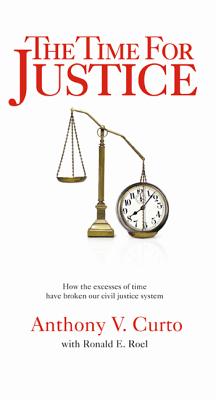 The Time for Justice: How the Excesses of Time Have Broken Our Civil Justice System (Hardcover)
How the Excesses of Time Have Broken Our Civil Justice System
Onward Publishing Incorporated, 9780984900510, 187pp.
Publication Date: September 4, 2012
* Individual store prices may vary.
or
Not Currently Available for Direct Purchase
Description
Anthony Curto, acclaimed New York lawyer who has represented Harry Chapin, Paula Abdul, Alexandr Solzhenitsyn, Freeman McNeil, and has focused on resolving issues in the quickest, most efficient way, has determined that the enemy of our judicial system lies with time--excessive time--caused by numbing administrative procedures at every level that result in endless delays, and no justice for all. This powerful book presents masterful ways to fix the system and uses compelling cases that illustrate how time delays can topple justice. A must-read for anyone interested in insuring the swift and fair delivery of justice--for "all."
About the Author
As senior partner of Forchelli, Curto, Deegan, Schwartz, Mineo, Cohn, & Terrana on Long Island, Anthony Curto has been associated with many complex high-profile matters, but his day-to-day legal philosophy is refreshingly simple: Serve your clients well by getting the issues resolved in the quickest, most efficient way possible. His practice reflects what he has identified as the major problem in the judicial system today--the inordinate length of time that cases take to proceed through our legal system. He practices from a business mindset, isolating the issues, view to the goal, and knowledge of the law to bring the problem to a conclusion quickly and judiciously. Throughout his career, he has also been a staunch advocate of community service, receiving numerous awards, including the 1984 Congressional Achievement Award and the 1987 Martin Luther King Jr. Living the Dream Service Award. He lives in Northport, New York, with his wife, Linda.
Advertisement