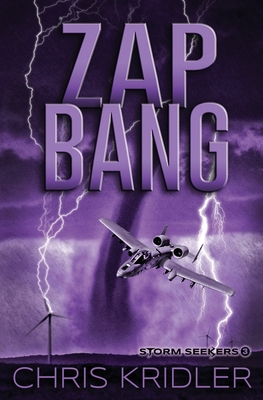 Zap Bang (Paperback)
Sky Diary Productions, 9780984913985, 324pp.
Publication Date: September 11, 2014
* Individual store prices may vary.
Description
For tornado chaser Jack Andreas, an invitation to a lightning study means double the danger. As he sees it, what's not to love? He's intrigued by the job and fascinated by pilot Maribeth Lisbon, who must fly a research plane into the zap zone. Maribeth suspects he's trouble, especially when his charms set off all her alarms. In their way are scheming TV chaser Brad Treat and down-on-his-luck adventurer Aurelius Zane, intent on filming a wedding in front of a twister. The eccentric billionaire who funds the study has a secret agenda. And a mystic with a food truck tests them all. As fearsome storms put them in mortal peril, Jack and Maribeth find their toughest challenge may lie within. The sequel to FUNNEL VISION and TORNADO PINBALL, ZAP BANG concludes Chris Kridler's Storm Seekers trilogy with action, drama, humor and romance.
About the Author
Chris Kridler is a writer, photographer and storm chaser who blogs at ChrisKridler.com and shares her storm-chasing reports at SkyDiary.com. Her Storm Seekers trilogy of storm-chasing adventures consists of the novels FUNNEL VISION, TORNADO PINBALL and ZAP BANG. As a journalist, she's covered a variety of topics, from space to lifestyles, and was a longtime columnist for Florida Today. Chris' photographs have appeared in several magazines and books, including the covers of The Journal of Meteorology, the book Winderful, and Wallace and Hobbs' Atmospheric Science textbook. She was recently featured in Popular Photography. Her short film "Chasing Reality" won the best documentary award at the Melbourne Independent Filmmakers Festival in Florida in 2011; she won best animation in 2013 with "The Chase." Chris lives on Florida's Space Coast.