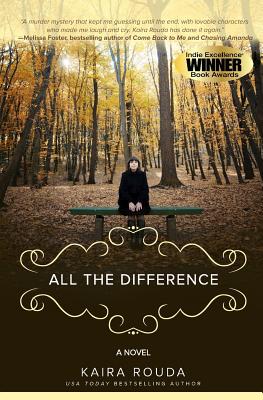 All the Difference (Paperback)
Real You Publishing Group, 9780984915101, 290pp.
Publication Date: March 20, 2012
Other Editions of This Title:
Paperback (6/5/2012)
* Individual store prices may vary.
Description
From the bestselling author of HERE, HOME, HOPE, comes a novel of suspense and choices, with a nod to the best of Susan Isaacs's tales of suburban murder. Once again, everything isn't what it seems in the suburb of Grandville. ALL THE DIFFERENCE is the story of three Grandville women whose lives become entangled by the choices they make and how, ultimately, one of them turns to murder to achieve her goals. Roommates Laura and Angie couldn't be more different. Laura is a local celebrity, the television anchor who is motivated to move out of small-time media markets and on to the big time, no matter the cost. Meanwhile, Angie, a luckless waitress, spends her time waiting for Mr. Right to save her from temporary jobs and a life spent making bad choices. On the other side of town, Ellen abandons her life as a successful fundraiser for that of an isolated housewife in the country estate she shares with her husband, whose affairs become increasingly hard to ignore. When the city's gossip columnist, Maddie, and restaurant reviewer, Dixon, become involved in the story, the unlikely duo stir up more than they intended. With her signature mix of compassion and wit, Kaira Rouda once again takes readers on an entertaining journey into the heart of women's lives in suburbia, this time with a dose of suspense.
About the Author
Kaira Rouda is an award-winning entrepreneur and author. She lives in Southern California with her husband and four children and is at work on her next novel. Connect with her on Twitter, Facebook or KairaRouda.com. Rouda has won numerous awards for her writing including: Winner, Indie Excellence Award for Women's Fiction; Winner, USA Book Awards for Women's Fiction; and Honorable Mention, Writer's Digest International Book Awards for Mainstream Fiction. In addition to her fiction writing, Rouda is the author of the best-selling and award-winning business book REAL YOU INCORPORATED: 8 Essentials for Women Entrepreneurs.