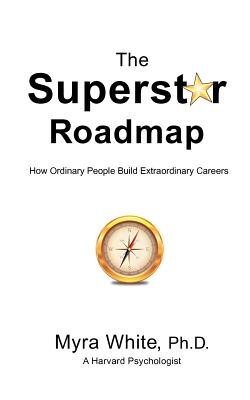 The Superstar Roadmap (Paperback)
How Ordinary People Build Extraordinary Careers
Work Intelligence, Incorporated, 9780984944903, 276pp.
Publication Date: February 28, 2012
* Individual store prices may vary.
Description
The Superstar Roadmap isn't about changing who you are. It's about changing what you do Hidden within each of us is a superstar waiting to come alive. Often we never find this superstar. We give up too easily because the world leads us to believe that superstars have special talents we lack. Dr. White's research into how over 60 ordinary people, like Steve Jobs, Jack Welsh, Warren Buffet, Lady Gaga, and many others, became superstars shows that we all have the potential to become superstars in what we love to do. We just need to know the way. The Superstar Roadmap shows you the way by providing you with a nine-step road map that will wake up the superstar in you.
About the Author
Dr. White is an expert on leadership, virtual teams and workplace performance. She has over 15 years experience designing and conducting training programs for international and U.S. clients and over ten years experience teaching management courses at Harvard. Her innovative courses at Harvard on leadership and virtual teams have made her a highly sought teacher and in 2007 she was the Harvard recipient of the JoAnne Fussa Distinguished Teaching Award. In 2010 she was selected as a Woman of the Year by the Harvard Women's Empowerment Network. Dr. White is an internationally recognized thought leader and speaker who, in addition to speaking in the U.S., has spoken on leadership in China, India, and Brazil. She is frequently interviewed by the media and her monthly columns on best management and leadership practices at www.management-issues.com are read around the world and have been reprinted in business publications. Dr. White is also the author of Follow the Yellow Brick Road: A Harvard Psychologist's Guide to Becoming a Superstar, which is based on her research on how ordinary people become great leaders. Dr. White has extensive experience designing workplace assessment tools and has developed innovative survey instruments and analytical tools for measuring performance and human behavior. As part of her work on leadership, she has developed Behavior Grams(TM) which predict how a person will actually perform in a position (For more information see www.behaviorscientific.com). At Harvard Dr. White is a professor in the graduate ALM management program and a clinical instructor in the Department of Psychiatry at Harvard Medical School. She has a Ph.D. in psychology from Harvard University, a J.D. from Harvard Law School, and an M.S. in Electrical and Computer Engineering from Northwestern University. As a student at Harvard Dr. White was the Head Teaching Fellow to renowned psychologist, David McClelland, who is best known for developing competencies and his work on motivation. She also founded a successful high-tech company during her graduate studies and currently holds a patent for a system that uses computer neural networks to mimic human cognitive development. A former competitive athlete, Dr. White played on the Harvard Women's Ice Hockey Team and has won awards in track and swimming. Like Einstein, she views herself as a citizen of the world.