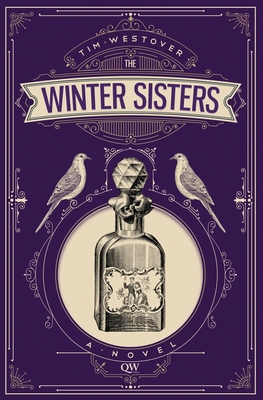 The Winter Sisters (Paperback)
Qw Publishers, 9780984974894, 324pp.
Publication Date: August 7, 2019
Other Editions of This Title:
Hardcover (4/7/2020)
* Individual store prices may vary.
Description
Dr. Waycross knows bleeding and blistering, the best scientific medicine of 1822. He arrives in the Georgia mountains to bring his modern methods to the superstitious masses. But the local healers, the Winter sisters, claim to treat yellow fever, consumption, and the hell-roarin' trots just as well as he can. Some folks call the sisters herb women; some call them witches. Waycross calls them quacks. But when the threat of rabies--incurable and fatal--comes to town, Dr. Waycross and the Winter sisters must combine their science and superstition in a desperate search for a remedy. Can they find a miracle cure, or has the age of miracles passed?
Praise for "Auraria" by Tim Westover:
"Weaves tall tales and legends, Carrollian surrealism, and a fascinating cast of characters into a genuinely inventive novel that reads like steampunk via Mark Twain. Fact and fancy are intertwined cleverly and seamlessly in a top-notch, thoroughly American fantasy." Publishers Weekly, starred review
About the Author
Tim Westover, a graduate of Davidson College and the University of Georgia, lives in suburban Atlanta. Born in the north, educated in England, and frequent visitor to Russia, he found his home in the North Georgia mountains.

In addition to writing, Westover enjoys programming, playing the clawhammer banjo, and raising his three-year-old daughter to be a modern American eccentric.
Praise For The Winter Sisters…
Praise for "Auraria" by Tim Westover

"Fact and fancy are intertwined cleverly and seamlessly in a top-notch, thoroughly American fantasy." -Publishers Weekly (starred review)

"I loved Auraria, by Tim Westover, who based much of his mythos on southern Appalachian folklore. This story romps across those rugged mountains and splashes gleefully into springs flecked with gold. Westover presents us with a delightfully imaginative world, where trees sing and fish swim in the mist. His fluid, humorous style draws us right into that magical place. Highly recommended." -Jo Ann Butler, Historical Novel Society