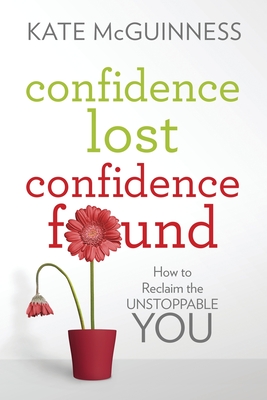 Confidence Lost / Confidence Found
How to Reclaim the Unstoppable You
Paperback

* Individual store prices may vary.
Other Editions of This Title:
Digital Audiobook (1/28/2020)
Description
"Women who struggle to believe in themselves will discover many useful tips in this practical guide to building and sustaining self-esteem. . . . Great for fans of Nathaniel Brandon's Six Pillars of Self-Esteem, Jen Sincero's You Are a Badass."-Publishers Weekly
"Inspirational and practical-a compassionate and energizing guide full of confidence-building ideas."-Kirkus
"Should be on the bookshelf of every woman who has ever questioned her self-worth - and that's just about all of us." -- Lois P. Frankel, Ph.D., author of Nice Girls Don't Get the Corner Office, Nice Girls Don't Get Rich and Nice Girls Don't Speak Up or Stand Out
"We long for true confidence in our worth and capacity to cope and succeed, and Kate McGuinness shows us the way." -- Rick Hanson, Ph.D., author of Resilient: How to Grow an Unshakable Core of Calm, Strength, and Happiness
Practical Strategies to Boost Your Confidence.
With unflinching honesty, Kate McGuinness describes the blows that undermined her confidence. She went from flourishing as a high-flying Los Angeles lawyer to existing as an exile in an Iowa farm town. The downward spiral started with her surprise termination from a dream job and deepened with divorce and financial loss. Then Kate began the journey to confidence found by becoming trained as an executive coach. The plans she shares in this book enabled her to create sustainable self-confidence.
Confidence Lost / Confidence Found: How to Reclaim the Unstoppable You serves up 27 bite-sized chapters full of relatable stories and simple exercises that offer a road map for building and maintaining confidence. McGuinness guides readers on how to:
Tame perfectionism and muzzle one's inner critic.
Build confidence by increasing eight attitudes, including assertiveness, self-compassion, and authenticity.
Minimize five self-sabotaging behaviors that erode confidence.
Rich with real-life examples and road-tested practices, Confidence Lost/Confidence Found is grounded in breakthrough brain science to unleash the power of neuroplasticity. The author's step-by-step approach shows readers how to become aware of helpful and harmful behaviors through mindfulness.
Whether networking, interviewing for a job, public speaking, or even looking in the mirror, Confidence Lost / Confidence Found will help you create lasting change, inspiring you to live with authentic confidence and awaken sleeping goals. Please visit katemcguinness.com.
Two XX Press, 9780984990122, 268pp.
Publication Date: January 14, 2020