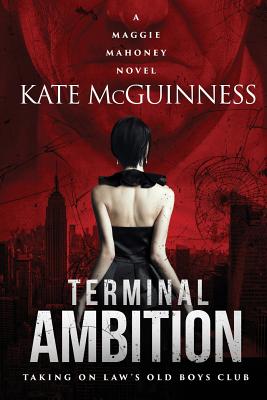 Terminal Ambition
A Maggie Mahoney Novel
Paperback

* Individual store prices may vary.
Description
Maggie Mahoney wants justice for women at her law firm. The firm chairman wants to be Attorney General. Only one can win. Sweeny, Owens & Boyle sits at the top of Wall Street law firms. Brilliant and beautiful, Maggie Mahoney became a partner and the trophy wife of its managing attorney. Her husband's death renders Maggie an outsider with the firm's male establishment and creates a power vacuum. Obsessed with his dream of becoming the next Attorney General, firm chairman, Andy Anderson, chooses a surprising replacement: Jack Slattery, a reputed sexist. Jack's background hardly qualifies him for such a prominent position. Maggie suspects Jack has something on Andy, but what is it? Andy's ambition drives him to desperate measures. With proof of misconduct in hand, Maggie demands justice, but it comes at a high price. If ambition rules, can justice prevail? Praise for TERMINAL AMBITION "Author Kate McGuinness does a terrific job highlighting the challenges that are all too familiar to women in the working world. An intriguing portrayal of discrimination and harassment, Terminal Ambition is a must read." Susan Estrich USC Law Professor Fox News Commentator "Every working woman should read this book Author Kate McGuinness both entertains and educates, inspires and motivates women and men who work with them to claim the rights that are theirs by law and more. Brilliant, passionate, Terminal Ambition could revolutionize how you think about going to work and what you can do there. Kathleen Barry, Professor Emerita Pennsylvania State University Author: Female Sexual Slavery "A gritty legal thriller. . . that pivots on the theme of sexual harassment. This page-turner book not only illuminates one of the most persistent and important gender-justice problems of the day but it also raises thorny moral questions that challenge every woman or man who seeks success in the top professions of our society. A must read for lawyers and nonlawyers alike." Roy L. Brooks Professor of Law University of San Diego "The issues addressed in McGuinness' intriguing first novel Terminal Ambition - from acquaintance rape to sexual harassment - are ones that will be all too familiar to her readers. Heroine Maggie Mahoney's courage in challenging the status quo will inspire young women to speak up and take action in their own lives." Abigail Collazo Editor Fem2pt0 "In Maggie Mahoney, Mc Guinness has created a vivid and engaging protagonist, who possesses grit, integrity and a burning desire for justice. Surely admirable qualities for a lawyer---but they may yet bring about her destruction." Claire McNab Former President Sisters in Crime "This page-turner offers readers a wild ride they won't soon forget." Steven J. Harper Author: The Lawyer Bubble "A terrific, smart, honest book. Kate McGuinness knows the inside scoop on life at a big law firm. She also knows how to write a suspenseful page-turner - one that doesn't shy away from presenting the ugly reality of workplace sexual harassment and discrimination. As important as it is long overdue." Will Meyerhofer, JD MSW Author: "Way Worse Than Being a Dentist.
Two XX Press, 9780984990177, 312pp.
Publication Date: March 24, 2012
About the Author
Kate McGuinness joined a major international law firm following graduation from law school. In seven years, she became one of only a handful of female partners. After spending ten years as a partner, she was recruited by a Fortune 500 company to serve as its General Counsel. Today she is a full-time writer who advocates for women's rights. Her work has appeared in The Guardian, Huffington Post, Forbes, Jezebel, Women's Media Center, Fem2pt0, Ms. JD, The Girls Guide to Law School and other outlets. She tweets about these issues as @K8McGuinness. She lives on the California Coast.