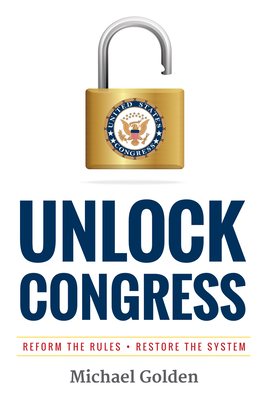 Unlock Congress
Reform the Rules - Restore the System
Hardcover

* Individual store prices may vary.
Description
The American people are disgusted with the U.S. Congress. In 2014, public approval of the "first branch" of government reached a forty-year low, its popularity ranking well below Nixon during the Watergate years and BP during the oil spill. Congress is producing legislation at a historically anemic rate, while many of the nation's most immediate problems fester. Those are the facts. The fiction? The notion that we can't do anything about it. Two-and-a-quarter centuries ago, the U.S. Constitution assigned various powers and obligations to our legislative branch -- a written warranty calling on our elected representatives to "promote the general welfare." But failures in recent years reveal a profound truth: Congress is in breach of contract. More than ineffective, the legislative process has become defective. And to a great degree, it is the congressional system that is driving the problem, not just the people and parties who are stymied by it. It is time to stop labeling them all "fools." Instead, we the people must push to reform the rules. In Unlock Congress, veteran journalist and former political strategist Michael Golden examines the ways in which congressional failure generates a harmful PRODUCT. Rather than narrowly affixing blame to individual politicians or even to the partisan divide, Golden methodically diagnoses underlying causes behind the breakdown. He identifies the PROBLEM obsolete rules that lead to major defects within the system. Finally, Unlock Congress lays out a PLATFORM of solutions designed to reinvigorate both the process and its players.
Praise For Unlock Congress: Reform the Rules - Restore the System…
"In his analysis of the 'money flood,' Michael Golden has taken one of the most complex and challenging public policy issues of our time and distilled it into a clear and compelling narrative that should stir the public to action." —
Mark McKinnon
, Co-founder of Mayday PAC and former advisor to President George W. Bush
"Unlock Congress is about making bipartisan politics operational once again...His book is readable. And needs to be read. It offers a vial of vaccine for the diseased politics that is crippling us." — Carol Marin, Chicago Sun-Times columnist and NBC-5 Chicago political editor
"In this beautifully written, highly readable, and notably well-researched book, Golden points the way toward real-time steps for congressional reform. Whatever your partisan affiliation or political philosophy, you will be stirred by the realizable vision of Unlock Congress." — James Strock, Author, Theodore Roosevelt on Leadership
"We currently have a republic that is not representative of, nor responsive to the general public. Unlock Congressoutlines various contributing factors and offers several potential solutions to help revitalize our system of governance." — David Walker, former U.S. comptroller general
"In Unlock Congress, Michael Golden artfully takes us on a historical journey, offering readers a clear understanding of the dysfunction that is crippling Congress. Golden's gem is a must-read for political junkies and all Americans who seek the bright futures that our founding fathers envisioned." — Lou Weisbach, Former Chairman, Democratic National Committee Jefferson Trust
"This book is incredibly passionate and articulate and persuasive. It's both sides of the aisle – it makes sense to everybody. And it will give you some hope." — Rick Kogan, Chicago Tribune columnist, WGN Radio Host
"
Unlock Congress
 provides precisely what it seeks from Congress: deliberative, historically-grounded, and well-reasoned policy prescriptions as to how a free society should be governed." — 
Dan Proft
, Conservative Morning Drive Radio Talk Show Host, AM 560 The Answer, Chicago
"If you want proof that the system is broken, this well-researched book will convince you. If you are already convinced, but want practical solutions, Mr. Golden delivers on that score as well." — Dr. Woods Bowman, Professor Emeritus, DePaul University, School of Public Service
"Unlock Congress delivers on its promise...Golden diagnoses our national illness and writes a sensible prescription to cure it." — 
Foreword Reviews
Why Not Books, 9780984991983, 328pp.
Publication Date: April 15, 2015
About the Author
Michael Golden is a journalist, social entrepreneur and public speaker who serves as a Senior Fellow at the Center for American Progress. Michael is a former reporter who worked at NBC and CBS television affiliates in Illinois, Iowa, and California. His investigative and public affairs reporting earned him honors from the Associated Press, the Edward R. Murrow Awards and the Society of Professional Journalists. Between 2000-2006, Michael worked as a campaign manager and communications strategist on political races for the White House, U.S. Senate, and U.S. House of Representatives. In late 2006 he co-founded One Million Degrees, a non-profit scholarship program that has empowered hundreds of low-income community college students to graduate and embark upon careers. 
or
Not Currently Available for Direct Purchase