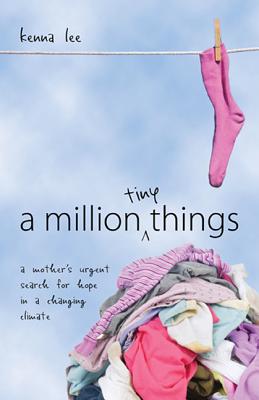 Million Tiny Things (Paperback)
Mole's Hill Press, 9780985021504, 234pp.
Publication Date: April 2, 2012
* Individual store prices may vary.
Description
A Million Tiny Things chronicles the escapades of a wannabe "green mom" trying to keep her sense of humor while hanging on to a lifeline, or at least a laundry line, of hope. In this age of anxious parenting and frantic Save the Earth messages, Kenna Lee answers the question, "How do we stay out of denial without getting depressed?" With a willful optimism, Lee travels the long distance from eco-overwhelm to self-forgiveness via a growing belief that large numbers of small pro-environment actions can add up to a better world.
About the Author
Kenna Lee, smiling full-time nurse, part-time environmentalist, and all-the-time mother, lives in Sebastopol, California, with her three semiferal children and several domesticated animals. After receiving a liberal arts degree back east, she entered the underground world of homebirth midwifery, only to emerge a decade later into a more normal life as a hospice nurse. Tortured by the distance between her suburban lifestyle and her perceptions of "right living," she began writing about mothering in the era of global warming, only to discover that her work struck a deep chord in her community of mothers. She began publishing in online venues where she wrote about maternal eco-anxiety in her online column, "Home Eco-nomics." Her personal essays have also been published by "Brain, Child, Amoskeag" (global warming issue), "Midwifery Today," the "Journal of Hospice and Palliative Care Nurses," the "American Journal of Nursing," and the "Northern California Bohemian," as well as aired on the KQED Perspectives series.
Praise For Million Tiny Things…
"As a mother and a citizen of the 21st Century, Lee takes on the issues of our day, informing the reader, but also inviting a laugh at the absurdity of having to navigate myriads of tiny, daily decisions that could determine the future of the planet."—Kaitlin Quistgard, editor in chief, Yoga Journal
or
Not Currently Available for Direct Purchase