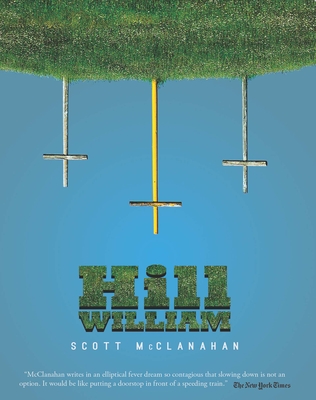 Hill William (Paperback)
Tyrant Books, 9780985023553, 222pp.
Publication Date: November 5, 2013
* Individual store prices may vary.
Description
"You can tell McClanahan feels something when he writes and when he lives. He wants you to feel something too."--The Huffington Post
I walked up to the side of the mountain like I used to do when I was a little boy. I looked out over Rainelle and watched it shine. The coal trucks and the logging trucks were still gunning it through town. They were still clear cutting the mountains and cutting the coal from the ground. Then I heard my mother calling and it was like I was a child again.
Beginning to read Hill William is like tuning into a blues station at 4:00 a.m. while driving down the highway. Scott McClanahan's work soars with a brisk and lively plainsong, offering a boisterous peek into a place often passed over in fiction: West Virginia, where coal and heartbreak reign supreme. Hill William testifies to the way place creates and sometimes stifles one's ability to hope. It reads like a Homeric hymn to adventure, to the human comedy's upsets and small downfalls, and revels in its whispers of victory. So grab coffee, beer--whatever gets you through the night--and join Scott around the hearth. Lend him your ear, but be warned: you might not want it back.
Scott McClanahan's work has appeared in New York Tyrant, Bomb, Vice, and Harper Perennial's Fifty-Two Stories. His books include Stories II and Stories V In 2013 Two Dollar Radio will release his book Crapalachia.
About the Author
Scott McClanahan is a writer from West Virginia. His work has appeared or has been featured in New York Tyrant, Bomb, Vice, and Harper Perennial's 52 Stories. His books include "Stories II" and "Stories V!" In 2013 Two Dollar Radio will release his book Crapalachia. He helps run the video-terrorist group Holler Presents with C.J. Oxley. Their films include "Preacher Man," "The Education of Bertie Mae McClanahan," "Lil' Audrey's Last Day of School," and the 34 film video monologue/poem project, "The Life and Death of Scott McClanahan." You can view this work at hollerpresents.com. He is also part of the band Holler Boys who will release their first album Holler Boys' Greatest Hits in 2013. He is married to Sarah. His children are Iris Grace and Samuel Ray. His father-in-law is Elonza Tavenous Turner. Scott likes chicken wings and beer and cheese. He is happy you bought this book from New York Tyrant Books.
or
Not Currently Available for Direct Purchase