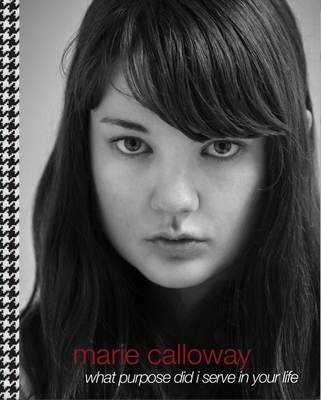 What Purpose Did I Serve in Your Life (Paperback)
Tyrant Books, 9780985023584, 200pp.
Publication Date: June 4, 2013
* Individual store prices may vary.
Description
what purpose did i serve in your life is such a unique document that I have no idea if she could ever repeat its success. But she has gone all the way. She has not chickened out. She wrote the story she was given down to the bone. That's what real artists do. It's maybe the most surprising triumph to emerge from the literature of disaffection: What purpose did i serve in your life is the real thing." -Esquire Magazine The experience of reading what purpose did i serve in your life, which rides the line between performed and genuine vapidity and malign naivete so closely that the distinction between them blurs, is by turns dull, titillating, appalling, riveting, and as head-spinning, in Hoberman's phrase, as "a hall of mirrors in which Girl Power and female powerlessness are endlessly reflected." It is not, in other words, easy to turn away from. Easier, perhaps, to catch a shattered glance of oneself. -Slate Graphic, disturbing, enlightening and heart-warming (in its own weird way). --USA Today I have never read a book like this before. It's painful, shocking, and compellingly written, composed with great sensitivity to which details should be revealed and which must stay concealed. Its genre-muddle and formal complexity make for a completely unforgettable, profoundly contemporary, and plainly great work of courage and art. Here's a terrifying proposal: could this be The Great American Novel for the twilight of "Great" America?" - Sheila Heti (author of "How Should a Person Be?") Marie Calloway has a very specific literary personality that the reader is intrigued by: she's masochistic, loves to experiment, is quickly bored and intermittently self-hating, very hip, rebellious. Figuring her out is a gripping adventure. -Edmund White "This society hates feelings," Kathy Acker said about a million times. A chain of regulation controls us by making us fear that we will be expelled from the human club for being the wrong kind of person. Marie Calloway breaks that chain of regulation by displaying her body like a beggar displays her wounds, by asserting awkwardness and shame (for the body, for ambition). Her book should be called, Portrait of the Artist as a Young Woman Who Can't Be Controlled. Or is she the fiction, Holden Caulfield, Lolita, or Mme. Merteuil? How does a questing intelligence live inside the commodity?--searching for identity or personal branding? And if she is an attention whore, am I the attention john? Yes--but Calloway wonders as strongly as I do about what she might be, and she invites misunderstanding into her work. One thing is certain, though--She can really write about sex -Robert Gluck
what purpose did i serve in your life is moving, unprecedented, threatening, and surreal--the exciting, rare work of someone with nothing to lose. It's intuitive and overpowering, concise and extreme. And, like a plant or a comet, it doesn't pause to explain what it's doing, defend or rationalize its existence, or attempt to obscure or distort its intentions. If you're attentive toward it--and earnest and open-minded and non-malicious in your attention--you will likely question and examine what you yourself are doing and why, and how to change." --Tao Lin

About the Author
Marie Calloway (b. 1990) is a writer and brooklyn resident.
or
Not Currently Available for Direct Purchase