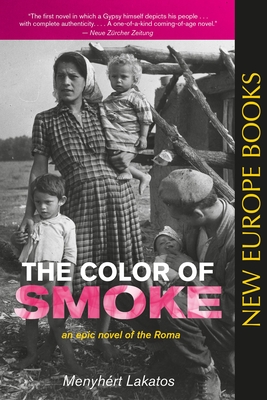 The Color of Smoke
An Epic Novel of the Roma
Paperback

* Individual store prices may vary.
Description
FOR THE FIRST TIME IN ENGLISH
a timeless tribute to one of the world's most marginalized peoples and the riveting tale of one boy's journey to manhood


Sweeping us into the world of the roma as fascism gathers force and the Holocaust looms on the horizon, The Color of Smoke is a thoroughly absorbing story that abounds in unforgettable characters. There is the adolescent narrator, torn between his people and a society that both entices him and rejects him. From his rise in school to his first sexual encounters, from hunger to police harassment, he treads a precarious path--one marked by moments of beauty and poignancy along with bawdiness, violence, and high adventure. And we come to know a people bound as much by a rich moral fabric as by the land and by the horses they love.


By an author who himself came of age in a Romani settlement during World War II, The Color of Smoke is a must read for anyone seeking a stunningly new, authoritative window onto the lives of the dispossessed--with haunting implications for today.Magisterial in scope and yet intensely personal, it combines beautiful prose with profound reflections on the human condition as only great literature can.
Praise For The Color of Smoke: An Epic Novel of the Roma…
"A picaresque tale of the struggles of the Romany (also known as the Gypsies) in Hungary before World War II, appearing for the first time in English . . . A rare, observant . . . snapshot of Romany life." -- Kirkus Reviews 

"A literary masterpiece. . . . a story about struggling to survive among the Roma in an era of widespread fascism and the Nazi Holocaust. . . . Yet despite the grim foreboding of its period, The Color of Smoke is also a candid and vivid portrayal of young adult life. The adolescent narrator . . . participates in school, engages in sexual encounters, suffers hunger and police harassment, and confronts violence. A powerful, unforgettable portrayal of how society at large and the Nazis in particular dehumanized the Roma, The Color of Smoke is highly recommended." -- Midwest Book Review

"The Color of Smoke is a gripping and important narrative of a subject obscured by myth and misconception. Thanks to Lakatos's elegant work, ignorance regarding the fate of the Roma people is no longer an excuse for inaction on their behalf." -- Kati Marton, author of Enemies of the People: My Family's Journey to America

"A picaresque and somewhat salacious odyssey.' . . . Despite their suffering, Lakatos shows how the Roma manage to survive, a tribute to their ingenuity and fortitude." -- World Literature Today


"That it took four decades for Menyhért Lakatos's epic novel The Color of Smoke to finally appear in English translation is astonishing. To me and many other Hungarians, this 1975 classic shined a light on a marginalized people who lived among us but about whom we knew little: the Roma (Gypsies), who are by far the largest minority in Europe. The book is a riveting coming-of-age story set during World War II. It also powerfully chronicles the increasing social tensions that culminated in the murder of hundreds of thousands of Roma in the Holocaust." -- Géza Röhrig, writer and actor (Son of Saul), writing for the Wall Street Journal

"After appearing in various European languages, The Color of Smoke has at last been made available in English. Based loosely on Lakatos Menyhért's own life, it skillfully and imaginatively portrays the challenges facing the journey from boyhood to manhood of its central figure. As a Romani (Gypsy) adolescent he has to deal with the cultural barriers that separate his own world from the non-Gypsy world as all Roma must do--but he does so surrounded by the terrors of the Second World War, when the Romani people in Hungary were being herded into labor camps, some destined for Auschwitz. Written by an insider, this long-overdue and realistically harsh book opens a window into Romani life at that time and adds to our growing awareness of the Romani experience in Nazi-occupied Europe." -- Ian Hancock, Director of the Romani Archives and Documentation Center, University of Texas, and author of We Are the Romani People

"Hailed as the crowning achievement of the late Menyhért Lakatos, Hungary's foremost Romani (Gypsy) author of the twentieth century, The Color of Smoke has finally appeared in an English translation. Its vivid characters and background illustrate the pathos and resilience of the Roma in Hungary during World War II, when that country was first an ally and then a victim of Nazi Germany. The author has drawn upon his boyhood experiences in this bildungsroman to show how his people, the Roma, denied their basic human rights and forced to scrounge an existence on the margins of society, were part of this society, but never fully accepted by the greater majority nor given equality of status. Finally they became the innocent victims of hatred and genocide along with the Jews when they were engulfed by the Nazi Holocaust." -- Ronald Lee, LLD, Romani Canadian writer, linguist, and activist 

"It would not be an exaggeration to describe Lakatos as a Romani Proust." -- Cécile Kovácsházy, TheConversation.com

"Gypsy characters . . . appear time and again in literature. However, this is the first novel in which a Gypsy himself depicts his people—marked for centuries by ostracism and misery—with complete authenticity and literary truthfulness . . . Its description of the life of a Gypsy group during the 1930s and 1940s grabs the reader through the intensity and immediacy of its ambiance and language. . . . Characters, legends, customs, and Dionysian passions—brought to life superbly—are effortlessly treated in colorful episodes. . . . A one-of-a-kind coming-of-age novel." — Neue Zürcher Zeitung
New Europe Books, 9780985062347, 480pp.
Publication Date: August 11, 2015
About the Author
Menyhért Lakatos (1926–2007) was the prizewinning author of many books. His magnum opus, The Color of Smoke--inspired by his own youth in a Romani settlement, and first published in Hungarian in 1975--has been translated into more than half a dozen languages.

Ann Major (1928-) has brought several Hungarian books to English, including Paul Lendvai's The Hungarians: A Thousand Years of Victory in Defeat (Princeton University Press), and also translates from German. The author of a memoir, A Carpet of Jacaranda (Sydney Jewish Museum, 2013), she lives in Lane Cove, Australia.