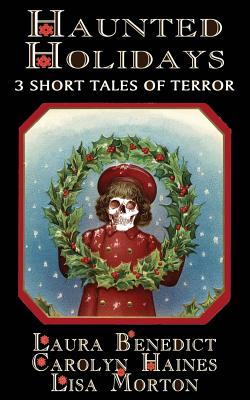 Haunted Holidays
3 Short Tales of Terror
Paperback

* Individual store prices may vary.
Description
Looking for a little fright to go with your fa-la-la? Three thrilling horror writers-Lisa Morton, Carolyn Haines (aka R.B. Chesterton), and Laura Benedict-bring you three short, sharp tales of terror to liven up your holiday fireside reading. The Christmas Spirit By Lisa Morton In a last-ditch effort to save their troubled marriage, Elise and Ray decide to get out of London for Christmas and spend time together at the tatty, atmospheric Yorkshire cottage Elise has inherited from her Aunt Priscilla. When Ray surprises Elise with The Christmas Spirit, an old book he's bought in the village, Elise reads it aloud, anxious to make their stay a success. But the tale of murder and violence transcends time, reaching out for Elise and Ray, threatening not just their marriage, but their lives. The Christmas Ornament By Carolyn Haines (aka R.B.Chesterton) Homesick and stuck at Cornell University over the Christmas holidays, Clair and four of her fellow grad students accept Carlos Ard's invitation to spend Christmas at his great-uncle's isolated Victorian summer home deep in the woods. After a Christmas Eve feast, everyone settles in to hear ghost stories, but after Carlos brings out a box containing a family heirloom from Romania-a Christmas ornament that's so cursed that it cannot even safely be seen-the adventure becomes a nightmare from which Clair may never wake. The Christmas Gnome By Laura Benedict Venus Hansen has a perfect face, a perfect house, a perfect husband and two perfect children. When her mother-in-law in Norway sends them a shabby wooden Christmas gnome, Venus's perfect husband, Steffan, insists on surprising the children each morning before Christmas with some holiday-themed mischief that the gnome has gotten into, just like a certain elf that lives on a shelf. Venus doesn't want to have anything to do with it, but when Steffan's pranks go awry, and the gnome starts telling Venus vicious secrets, Christmas turns deadly, and her perfect life will never be the same. Stick around after the end of the stories, if you dare. Lisa, Laura, and Carolyn have all included thrilling samples from their other, current books as a special treat.
Gallowstree Press, 9780985067861, 138pp.
Publication Date: November 25, 2014
About the Author
Laura Benedict's latest novel is BLISS HOUSE (Pegasus Crime), praised as "Eerie, seductive, and suspenseful," by Edgar award-winning author, Meg Gardiner. BLISS HOUSE is the first in a series of supernatural suspense novels set in Virginia. Laura is also the author of DEVIL'S OVEN, a modern Frankenstein tale, CALLING MR. LONELY HEARTS and ISABELLA MOON. Her work has appeared in Ellery Queen Mystery Magazine, PANK, and numerous anthologies like Thrillers: 100 Must-Reads and the upcoming The Lineup: 25 Provocative Women Writers. She currently lives with her family in the southern wilds of a Midwestern state. Visit her on Twitter (@laurabenedict) and at www.laurabenedict.com to learn more about her and her work. Lisa Morton is a screenwriter, author of non-fiction books, award-winning novelist, and Halloween expert whose work was described by the American Library Association's Readers' Advisory Guide to Horror as "consistently dark, unsettling, and frightening". Her most recent releases are the novel Zombie Apocalypse!: Washington Deceased and the novellas The Devil's Birthday and By Insanity of Reason (co-authored with John R. Little). In 2015 her next non-fiction book, Ghosts: A Cultural History, will be published by Reaktion Books. She lives in North Hollywood, and can be found online at www.lisamorton.com. Carolyn Haines is the Harper Lee and Richard Wright award-winning author of the Sarah Booth Delaney Mississippi Delta mystery series. She exercises her dark side under the pseudonym R.B. Chesterton. The Darkling and The Seeker are both available from Pegasus Books, New York. "The Hanged Man," a short story, is available in digital formats. As a reader/writer, short stories and horror were her first loves. An advocate for animals, Haines founded Good Fortune Farm Refuge in lower Alabama. She cares for horses, cats, and dogs. Find out more at www.carolynhaines.com