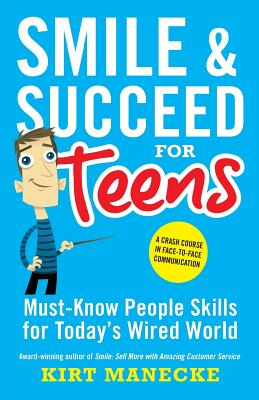 Smile & Succeed for Teens (Paperback)
Solid Press, LLC, 9780985076214, 146pp.
Publication Date: May 25, 2014
* Individual store prices may vary.
Description
A crash course in people skills to help teens succeed in school, work, and life. Get a good job. Make more money. Make a difference. Teens discover how to quickly and easily master the people skills critical to their success. Packed with indispensable tips, proven techniques, and "must-do-now" strategies, this book generates immediate results for success in school, work, and life. A must-read to master valuable social skills, prepare for a job, and get a head start in a career. Perfect if you are looking for a job, working, starting your own business, volunteering, or applying to college. Make a powerful first impression Based on the award-winning book (winner of 8 awards), Smile: Sell More with Amazing Customer Service. The stuff you absolutely positively NEED to know.
Praise For Smile & Succeed for Teens…
"Before you send your teen out to find a first job, be sure he reads this book! The best thing about this book is that my teenager actually read it. Several things about this book made it "teen readable." It is not too long (120 pages), the font is not too small and there are clever sketches and drawings every few pages."



William Allen, father



"I love this book! If I could give this book 6 stars I would! It is fabulous! As a volunteer coordinator for a national non-profit and the mother of twin teenagers I highly recommend it. It should be required reading for all teens...and I really think they would enjoy it!"



Kathleen Olak, mother



"A great book for teens with autism."



Holly Fadie, Speech-Language Pathologist, Boston Children's Hospital



"A little gem of a book that all teens should read. Details common sense hints to help teens gain the people skills they need to get and keep a job, as well as succeed in school settings. The layout is pleasing and easy to read. Wish I'd have had it when my children were teens!"



Eugene Hynes, father



"Smile & Succeed for Teens is an excellent resource for teens, young adults and first time job seekers who value proven methods to gain employment and succeed in customer service. It's a solid investment in employment skills that will pay dividends many times over!"



Richard Lindhorst, business owner and uncle



"The valuable lessons included in the book's content should be shared with every teen (and their parents)."



Goodheart-Wilcox Publisher







"Love it!!! Great book for Tweens and Teens! Simple skills that many of our young ones are missing! A must read!"



Teacher in southeast Michigan



"This book is phenomenal"



Becky Ferguson, mother of four



"What a fantastic book that teens can really use! As a teacher, I was shocked at how much teens rely solely on technology today and how many teens are severely lacking everyday people skills. Throughout the rest of the year, I caught many of my students mirroring the behaviors found in this book and many of them thanked me for sharing it. A good number of them even asked how they could purchase one for themselves!



After our 8th grade graduation, where the students received their "diplomas" after shaking the principal's hand, the principal came up to me and admitted that she had never seen a group of students who knew how to shake hands so properly and look her in the eye. I smiled to myself and knew that this book had worked!



Overall, this book is a true handbook for any teenager living in today's wired world."



Alicia M. Quintana, Summit Academy Flat Rock, 6-8 Language Arts Teacher







"I love this book! It's a big hit. One customer bought one book and she loved it so much she came back a week later and purchased 5 more books!"



Suzanne Gilbert, Main Street Art, Milford, MI



"I bought Smile & Succeed for Teens to get my child to put away his iPad."



Julie, mother



"I love Smile & Succeed for Teens! The tips work. This book is amazing!"



Nova, teenager



"Now I know when to have my phone out and when not to."



Isabell, teenager



"I found the book personally inspiring. I would not have known what to do and what not to do in an interview."



Jeremiah, teenager







"My big brother and I want to start a dog walking business. Smile and Succeed for Teens will really help us get started."



Chase, teenager



"This book helped me with eye contact, shaking hands, greeting people, and knowing what to wear for special occasions. I learned when to not be on my phone."



Gabi, teenager







"Smile and Succeed for Teens helped me realize that the way you put yourself into the world matters."



Nina, teenager







"Smile and Succeed for Teens will help me get a job and start a business!"



Nobel, teenager



"I love that this book lists ways to help when volunteering!"



Devon, teenager







"I learned how not smiling can affect me. I am glad I read it."



Angelina, teenager
or
Not Currently Available for Direct Purchase