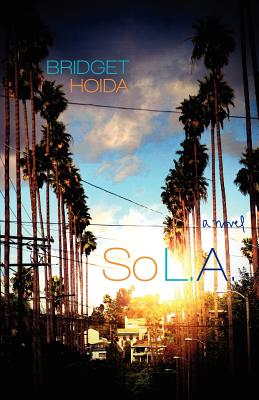 So L.A.
Paperback

* Individual store prices may vary.
Description
Beautiful Magdalena de la Cruz breezed through Berkeley and built an empire selling designer water. She'd never felt awkward or unattractive... until she moved to Los Angeles. In L.A. where "everything smells like acetone and Errol Flynn" Magdalena attempts to reinvent herself as a geographically appropriate bombshell-with rhinestones, silicone and gin-as she seeks an escape from her unraveling marriage and the traumatic death of her younger brother, Junah. Magdalena's Los Angeles is glitzy and glamorous but also a landscape of the absurd. Her languidly lyrical voice provides a travel guide for a city of make-believe, where even Hollywood insiders feel left out. Like a lane change on the 405 freeway during rush hour, Bridget Hoida, skillfully navigates the impossible in So L.A. offering a portrait of contemporary Los Angeles through the penetrating prose of her female protagonist. Evoking a dynamic and materialist landscape, So L.A. introduces readers to the unforgettable voice of an extremely talented new writer. "Bridget is a rare thing - an original writer with a unique voice. Her writing is ironic, satirical, smart, sexy and deeply tender. This is a book Joan Didion will wish she'd written " - Chris Abani, author of The Virgin of Flames and Song For Night "Bridget Hoida has crafted a remarkably fine novel. The language of this work is fresh, surprising and relentless. The novel captures California, it captures the culture, it captures this one woman's life and it captured me. This is strong stuff from a strong talent. Hoida's voice is here to stay." -Percival Everett, author of Assumption and Erasure "In So L.A., Bridget Hoida has crafted that rarest of books: intelligent, gorgeously written-and, best of all, fun. The charming, witty and slightly off-kilter voice of narrator Magdalena de la Cruz brings to mind the writing of Nabokov-but in a distinctly California style: Magdalena is a six-foot blonde rhinestone artist with acrylic nails and silicone breasts living in the heart of Los Angeles. She is, by turns, endearing, frustrating and heart-breaking as she tries to salvage her dissolving marriage in the wake of her brother's death. Hoida's sharp, exquisite prose awed me, and brought me to both laughter and tears." -Shawna Yang Ryan, author of Water Ghosts "Both heartbreaking and hilarious, Bridget Hoida's novel is a stunning debut. Inventive and deeply poetic, charming and wickedly witty, this is a work of lasting and profound satisfactions." -David St. John, author of The Red Leaves of Night.
Lettered Press, 9780985129415, 382pp.
Publication Date: April 25, 2012
About the Author
Bridget Hoida lives and writes in Southern California. In a past life she was a librarian, a DJ, a high school teacher and a barista. In this life she experiments with poetry and fiction and has taught writing at UC Irvine, the University of Southern California and Saddleback College. Bridget is the recipient of an Anna Bing Arnold Fellowship and the Edward Moses prize for fiction. She was a finalist in the Joseph Henry Jackson/San Francisco Intersection for the Arts Award for a first novel and the William Faulkner Pirate's Alley first novel contest. Her short stories have appeared in the Berkeley Fiction Review, Mary, and Faultline Journal, among others, and she was a finalist in the Iowa Review Fiction Prize and the Glimmer Train New Writer's Short Story Contest. Her poetry has been recognized as an Academy of American Poets Prize finalist and she was a Future Professoriate Scholar at USC. She has a BA from UC Berkeley and a Ph.D. in Literature and Creative Writing from the University of Southern California. So L.A. is her first novel.
or
Not Currently Available for Direct Purchase