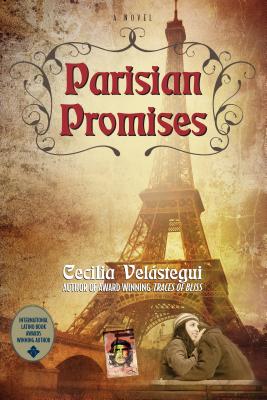 Parisian Promises (Hardcover)
Libros Publishing LLC, 9780985176914, 275pp.
Publication Date: February 3, 2015
* Individual store prices may vary.
Description
Paris, 1973: In the midst of a turbulent period of student unrest, political protest, and terrorist threats, Monica, a naive and idealistic American college student, arrives in Paris eager to live out her rose-colored dreams. Along with her three friends, Monica soon discovers a Paris not pictured in guidebooks or dreamy black-and-white photographs a place both seductive and dangerous. The young women, who each dreamed of love at first sight, instead find themselves in a complex tangle of temptation, sex, love, and betrayal. In a city famed for its beauty, the friends soon lose sight of their moral compasses, and discover the seamy side of the Parisian adventure. Monica's passionate involvement with two men puts her in grave danger. Velastegui spins a provocative and mesmerizing tale about the loss of innocence, the allure of desire, the power of both betrayal and redemption, and the danger in romanticizing the most loved and iconic of cities Paris.
About the Author
Cecilia Velastegui was born in Ecuador and raised in California and France. She received her graduate degree from the University of Southern California, speaks four languages, and has traveled to sixty-five countries. Cecilia received first place from the International Latino Book Awards for her novels Missing in Machu Picchu (2013) and Traces of Bliss (2012). The Association of American Publishers and the Las Comadres International Organization have selected her novels for the National Latino Book Awards. Her debut novel Gathering the Indigo Maidens (2011) was a finalist for the Mariposa Award. Her bilingual children's fable Olinguito Speaks Up-Olinguito alza la voz won first place in children's picture books (2014). Cecilia has been an invited author at the Los Angeles Times Festival of Books, Literary Orange, the Big Orange Book Festival, the Los Angeles Zoo, the Smithsonian Institution, and LEA LA, among others. She lives with her family in Monarch Beach, California.
or
Not Currently Available for Direct Purchase