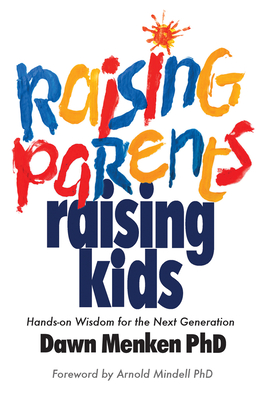 Raising Parents, Raising Kids (Paperback)
Hands-on Wisdom for the Next Generation
Belly Song Press, 9780985266745, 264pp.
Publication Date: December 1, 2013
* Individual store prices may vary.
Description
In this cutting-edge book, therapist, parent, and visionary Dr. Dawn Menken introduces a fresh approach to the joy and wonder of the world of parenting. Going beyond the conventional "how to" book, this is the ultimate guide to nurturing the emotional, spiritual, and social lives of children, helping parents create a more meaningful relationship with their children by supporting their deepest nature. Loaded with practical tips, inspiring examples, and her own intimate stories, Menken uses the principles of process-oriented psychology to help parents, caretakers, and educators navigate the complex waters of conflict, power dynamics, diversity, and other social challenges, offering groundbreaking insights and techniques to tackle the burgeoning problem of bullying. Menken goes on to address typical challenges of the parenting relationship, parents' own personal growth, and the call to parent not only our children, but also the planet, and ultimately ourselves.
About the Author
Dawn Menken, PhD, is a teacher, psychotherapist, and conflict facilitator. She is a certified process worker and is one of the founding members of the Process Work Institutes in both Portland and Zurich, Switzerland. Arnold Mindell, PhD, is known for his development of the dreambody and process work. He is the author of 21 booksin 27 languages, including ProcessMind, The Shaman s Body, and Sitting in the Fire. They both live in Portland, Oregon."
Praise For Raising Parents, Raising Kids: Hands-on Wisdom for the Next Generation…
"With concrete examples and useful tips, Raising Parents, Raising Kids helps parents to become in tune with their child, a key to deep parenting. Addressing issues ranging from emotional intelligence and dreams, to bullying, couples' conflicts, and more, this valuable guide provides essential insights and down-to-earth tools to serve the sacred task of parenting." —Tobin Hart, PhD, author, The Secret Spiritual World of Children


"Peppered with anecdotes from her practice and personal life, the book shows how Dr. Menken works with children to engage them more deeply with their emotional lives, and provides concrete activities to help readers do this important work with children as well. I found myself reading chapter after chapter and nodding, yes! This is a crucial book for parents and educators of this millennium." —Jenn David-Lang, editor,
The Main Idea
"[Dr. Menken] describes a range of dynamics that challenge children, parents, and families in both home and school life. By reaching below the surface through case illustrations and explanations, Dr. Menken teaches the reader how to validate the positive development of the child, skillfully offering useful tools and techniques to aid parents and children in their relationships with each other and with the world." —Ingrid Rose, PhD, author,
School Violence
"Dr. Menken writes with great clarity and the book is full of wonderful stories and examples offering specific tools for anyone raising or working with children either as parent, caregiver, or professional. I wish I had had this book when I was raising my own children." —Gary Reiss, PhD, author, Families that Dream Together