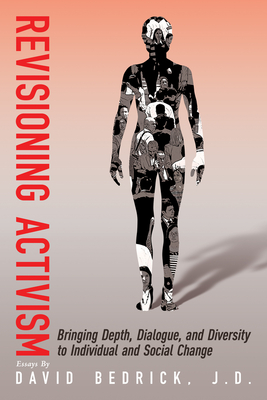 Revisioning Activism (Paperback)
Bringing Depth, Dialogue, and Diversity to Individual and Social Change
Belly Song Press, 9780985266783, 312pp.
Publication Date: January 15, 2017
* Individual store prices may vary.
Description
Many forms of activism live within the margins of conventional strategies such as marching, speaking out, and fighting for one's political representatives. This book of essays highlights, celebrates, and broadens the vision of activism to include the intersection between people and the social and political world, while encouraging dialogue across diverse viewpoints and exhorting psychology to become a social-change agent. The author deconstructs racism by looking at white denial and divergent views of Dr. Martin Luther King, Jr., and he deconstructs sexism by critiquing the diet industry and the way women feel about their bodies. He brings this same psychological eye to understanding societal problems, national celebrities, and popular psychology's failure to create sustainable change. Whether used in a classroom or with a group, a friend, or alone, this book provokes critical thinking, feeling, and dialogue.
About the Author
David Bedrick, J.D., is a teacher, counselor, attorney, and organizational consultant, having taught in organizations including the U.S. Navy, 3M, the American Society of Training and Development, and the Process Work Institute. As a practitioner of process-oriented psychology, a branch of Jungian psychology, he has worked with groups, couples, and individuals for more than 20 years. He is the author of Talking Back to Dr. Phil. He lives in Santa Fe, New Mexico.
Praise For Revisioning Activism: Bringing Depth, Dialogue, and Diversity to Individual and Social Change…
"Teacher, counselor, and attorney David Bedrick is the ideal guide to lead us through new doors of activism . . . Revisioning Activism helps us critically think and feel through a world in need of individual and social change, bringing depth, brilliant insights, and new strategies to heal ourselves and the world around us."  —Arnold Mindell, Ph.D., author, Quantum Mind
"Revisioning Activism takes us into uncharted territories and breaks through the classical boundaries of politics, health, spirituality, and social divides, with an incisive underlying and unifying vision of these disturbances making us more whole."  —Max Schupbach, Ph.D., President of Maxfxx and the Deep Democracy Institute
"With unflinching courage, Bedrick looks at tough issues—sexism, racism, anti-Semitism, and homophobia—and doesn't just challenge us to see how society and psyche are intertwined, but provides solutions . . . In this way, Bedrick truly revisions activism. He doesn't only call for a better world; he gives us a bridge to get there, offering us powerful new ways of thinking and doing to make the world he's envisioning."  —Julie Diamond, Ph.D., author, Power: A User's Guide
"Revisioning Activism is a rare read that reveals the essential connections between individual psychology, social history, and societal marginalization. These essays provide a needed education as to how marginalized groups are targets for projection and systemic annihilation, and compromise everyone's mental health."  —Dawn Menken, Ph.D., author, Raising Parents, Raising Kids
"David Bedrick has a refreshing and often underappreciated understanding of what it takes to achieve greater success with weight loss and healthier living . . . His years of experience and passion for the topic will certainly yield incredible results."  —Adam Putschoegl, M.D., Fellow, Pediatric Cardiology, Mayo Clinic
"Whether discussing gender, race, body image, or sexual inequality, [David Bedrick] speaks to the heart of the matter and impresses upon us the strength of overcoming our own inner 'Goliath.' Rather than running from our fear, frailties, and so-called flaws, Bedrick empowers us to find the wisdom in our wounds and use it to our advantage."  —Crystal Andrus Morissette, founder, S.W.A.T. Institute
or
Not Currently Available for Direct Purchase