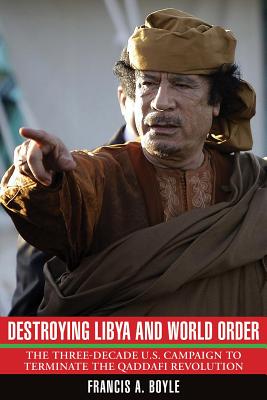 Destroying Libya and World Order (Paperback)
The THree-Decade U.S. Campaign to Terminate the Qaddafi Revolution
Clarity Press, Inc., 9780985335373, 212pp.
Publication Date: March 1, 2013
* Individual store prices may vary.
Description
Francis Boyle provides a comprehensive history and critique of American foreign policy toward Libya from when the Reagan administration came to power in January of 1981 up to the 2011 NATO war on Libya that ultimately achieved the US goal of regime change, and beyond. He sets the record straight on the series of military conflicts and crises between the United States and Libya over the Gulf of Sidra, exposing the Reagan administration's fraudulent claims of Libyan instigation of international terrorism put forward over his eight years in office. Boyle reveals the inside story behind the Lockerbie bombing cases against the United States and the United Kingdom that he filed at the World Court for Colonel Qaddafi acting upon his advice-and the unjust resolution of those disputes. Deploying standard criteria of international law, Boyle analyzes and debunks the UN R2P "responsibility to protect" doctrine and its immediate predecessor, "humanitarian intervention". . The purported NATO protection in actuality led to 50,000 Libyan casualties, and the complete breakdown of law and order. And this is just the beginning. Boyle lays out the ramifications: the destabilization of the Maghreb and Sahel, and the French intervention in Mali-with the USA/NATO/Europe starting a new imperial scramble for the natural resources of Africa. This book is not only a classic case study of the conduct of US foreign policy as it relates to international law, but a damning indictment of the newly-contrived R2P doctrine as legal cover for Western intervention into third world countries.