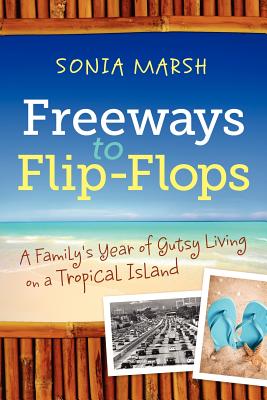 Freeways to Flip-Flops (Paperback)
A Family's Year of Gutsy Living on a Tropical Island
Gutsy Publications, 9780985403911, 328pp.
Publication Date: August 15, 2012
* Individual store prices may vary.
Description
"A suburban family discovers that trading materialism for a simple life on a tropical island helps them reconnect in unexpected ways." What do you do when life in sunny Southern California starts to seem plastic, materialistic and just plain hellish? For Sonia and Duke Marsh, the answer was to sell their worldly goods and move to an unspoiled, simpler life with their three sons in Belize, Central America, a third-world country without all the comforts and distractions of life in the developed world. Sonia hopes the move will bring her shattered family back together. She feels her sons slipping away from her, and her overworked husband never has time for her or the boys. Instead, things begin to go wrong immediately. The home they initially rented isn't available, so the family is forced to take up residence in a primitive, bug-infested shack. Duke's telecommuting plans prove impractical because of unreliable Internet access, and he loses his job. Middle son Alec - always a conscientious, polite, tractable child - misses his friends and has trouble adjusting. As the days turn into months, Sonia finds herself questioning the family's decision to move on a nearly daily basis. This is the story of one family's search for paradise. In this memoir, Sonia chronicles a year of defeats, fears and setbacks - and also the ultimate triumph of seeing once-frayed family ties grow back stronger from shared challenges and misfortunes. For Sonia, paradise turned out not to be a place, but an appreciation of life's simple pleasures - a close-knit family and three well-adjusted sons with a global outlook on life.