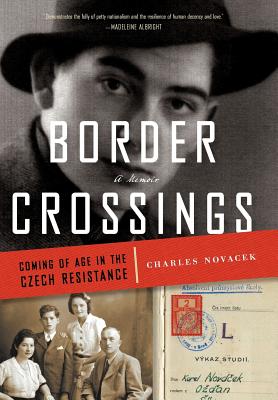 Border Crossings
Coming of Age in the Czech Resistance
Hardcover

* Individual store prices may vary.
Other Editions of This Title:
Paperback (10/21/2012)
Description
Advance Praise for Border Crossings from Madeleine Albright:
"Border Crossings is the well-told and dramatic story of a young man whose comfortable life is abruptly transformed by the savagery of World War II. Forced to rely on primal instincts and his familiarity with the rugged highlands of Moravia, Charles Novacek casts his lot first with the anti-Hitler Underground and then with the resistance to the Nazis' Communist successors. "My recollections pain me," he writes, "still, they have made me who I am." Novacek's experience as a Hungarian-speaking Czecho-Slovak patriot demonstrates the folly of petty nationalism and the resilience of human decency and love." ― Madeleine Albright, former U.S. Secretary of State
Description:
Border Crossings: Coming of Age in the Czech Resistance is the captivating, tender memoir of Charles Novacek, a Czechoslovakian whose idyllic childhood exploring the Tatra Mountains was shattered by the Nazi occupation of his homeland. He spent his youth defending his neighbors, his family, and his country, first from the Nazi atrocities of World War II and then from the Soviet oppression of the ensuing Cold War.
Charles was eleven years old when his father and uncle recruited him into the Czech Resistance. Antonin Novacek not only taught his son to survive in the wild, but also prepared him for wartime: how to resist pain, hunger, and fear and to trust no one. His assignments included delivering messages to soldiers parachuting behind enemy lines and hiding them in caves he equipped for their shelter.
As a young man, Charles was captured and jailed by the Communists and rescued by an underground resistance network. In too much danger to remain in Czechoslovakia, he staged a daring escape only to land in a miserable displaced persons camp. His will to live prevailed once again, and Charles eventually married and built a successful life in America.
Filled with heroic adventures and great bravery, Border Crossings is one man's remarkable tale of his incredible life and a testament to the human capacity to survive.
Additional Praise for Border Crossings:
"I have been transformed by this honest, extraordinary telling. In Border Crossings Charles Novacek shows us, through his personal story (told as if we are right there in the room with him) the true face of totalitarianism; he reminds us of the preciousness, the miracle, of freedom. What a gift he has given us--and what a gift his wife, Sandra, has offered us, as well, in making sure that his brave story is here for the world to read. This is a powerful memoir that crosses all borders and speaks directly to the human heart."Joseph Hurka, author of Fields of Light: A Son Remembers His Heroic Father
"Here is a story that is meant to survive, just as its teller was. I got to know Charles in his later years but only had hints of what is contained in these pages. They are riveting. I was drawn into the best and worst of humanity and, not incidentally, into the history of the West in the mid-twentieth century. Courage, love, despair, a fierce will are all preserved with the help of one who was 'not the love of Charles' life. . . but his last love.'" John Kotre, Ph.D., author of White Gloves: How We Create Ourselves Through Memory
"Border Crossings helps fill the lack of personal accounts of resistance movements amidst a voluminous array of World War II literature. This compelling memoir, written through the eyes of young Charles, shows how circumstances required him to become a shrewd hero. In his opposition first toward Nazism and then Communism, Charles Novacek's personal story illustrates why people sacrifice themselves and their families for an ideal. Intimate, intense, fascinating " Christina Vella, coauthor of The Hitler Kiss
1021 Press, 9780985415105, 272pp.
Publication Date: October 21, 2012