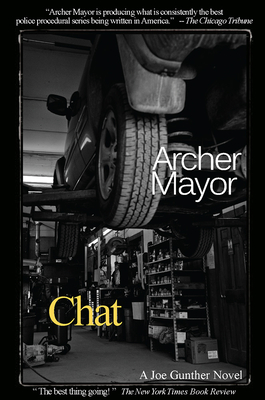 Chat (Joe Gunther Mysteries #18)
Paperback

* Individual store prices may vary.
Other Editions of This Title:
Digital Audiobook (4/22/2019)
Hardcover (10/1/2007)
Description
News travels fast in the small state of Vermont. In this tight-knit society, police officers and investigators proudly maintain a kinship that transcends the boundaries of their jurisdictions. When an unidentified body is found in the peaceful town of Brattleboro, local police and the Vermont Bureau of Investigation both appear at the scene. But before investigator Joe Gunther can begin to gather evidence of murder, a family emergency sends him to his hometown, where the lives of his mother and brother have suddenly been threatened. Gunther reaches out to a network of police officers who know him only by name and reputation as he attempts to discover the source of this imminent danger. Meanwhile, his investigative team chases an elusive murderer who has no apparent ties to the victim. In a state that is more like a neighborhood community, secrets are difficult to keep, and it's sometimes impossible to know who can be trusted. Gunther soon finds himself opposing criminals more menacing than any he has ever encountered in order to save those he holds closest to his heart.
Ampress, 9780985427658, 302pp.
Publication Date: January 1, 2007
About the Author
Archer Mayor is the author of the highly acclaimed Vermont-based series featuring detective Joe Gunther, which the Chicago Tribune describes as "the best police procedurals being written in America." He is a past winner of the New England Independent Booksellers Association Award for Best Fiction--the first time a writer of crime literature has been so honored. In 2011, Mayor's 22nd Joe Gunther novel, TAG MAN, earned a place on The New York Times bestseller list for hardback fiction. Before turning his hand to fiction, Mayor wrote history books, the most notable of which, Southern Timberman: The Legacy of William Buchanan, concerned the lumber and oil business in Louisiana from the 1870s to the 1970s. This book was published in 1988 and very well received; it was republished as a trade paperback in 2009. Archer Mayor is a death investigator for Vermont's Office of the Chief Medical Examiner, a detective for the Windham County Sheriff's Office, the publisher of his own backlist, a travel writer for AAA, and he travels the Northeast giving speeches and conducting workshops. He has 25 years of experience as a volunteer firefighter/EMT. Mayor was brought up in the US, Canada and France and had been employed as a scholarly editor, a researcher for TIME-LIFE Books, a political advance-man, a theater photographer, a newspaper writer/editor, a lab technician for Paris-Match Magazine in Paris, France, and a medical illustrator. In addition to writing novels and occasional articles, Mayor gives talks and workshops all around the country, including the Bread Loaf Young Writers conference in Middlebury, Vermont, and the Colby College seminar on forensic sciences in Waterville, Maine. Mayor's critically-acclaimed series of police novels feature Lt. Joe Gunther of the Brattleboro, Vermont, police department. The books, which have been appearing about once a year since 1988, have been published in five languages (if you count British), and routinely gather high praise from such sources as The New York Times, Washington Post, Los Angeles Times, New Yorker, and others, often appearing on their "ten best" yearly lists. Whereas many writers base their books only on interviews and scholarly research, Mayor's novels are based on actual experience in the field. The result adds a depth, detail and veracity to his characters and their tribulations that has led The New York Times to call him "the boss man on procedures".